Türkiye labels NATO applicant a 'terrorist propaganda center'
The accusation came after Sweden refused to launch a probe into a protest during which an effigy of President Erdogan was strung up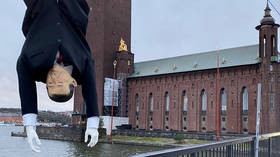 Sweden's refusal to investigate a Kurdish publicity stunt, which saw an effigy of Turkish president Recep Tayyip Erdogan being hanged in public, amounts to "supporting terrorism," Türkiye's ruling AK Party has said. The incident has further strained relations between Ankara and Stockholm, who remain deadlocked over Sweden's bid to join NATO.
On Wednesday, a life-size dummy depicting Erdogan was hung upside down during a Kurdish rally in central Stockholm.
The group behind the protest, the Rojava Committee of Sweden, posted a video of the stunt on social media, urging the Turkish leader to resign if he didn't want to face the fate of Italian dictator Benito Mussolini, who was similarly strung up in public after his execution in 1945.
Türkiye has summoned the Swedish ambassador to Ankara over the incident and demanded that Stockholm "take necessary steps against terrorist groups." However, a Swedish prosecutor refused to launch a probe, arguing that the demonstrators had been exercising their right to free speech.
The refusal to prosecute means that "a terrorist group can take any action it wants in Sweden; it can threaten the heads of states of friendly countries," the spokesman for Erdogan's AK Party, Omer Celik, told reporters on Monday.
What the Kurdish protesters did "has nothing to do with free speech," he insisted, adding that Sweden has become the "propaganda center of these terrorists."
"The silence of those who claim to champion democracy, pluralism, and freedom in the face of this vile terrorist act means nothing but supporting terrorism," Celik asserted, as cited by Anadolu news agency.
Ankara is currently stalling on the bids by Sweden and Finland to join NATO, accusing them of harboring "terrorists" from the Kurdistan Workers' Party (PKK) and other associated groups – which have been banned by the Turkish authorities – and demanding the lifting of an arms embargo on Türkiye.
Sweden has since lifted the ban on the sale of weapons, amended its constitution to make clamping down on terrorism easier, and carried out several extraditions of Kurdish suspects to Türkiye.
But Ankara insisted that those steps were not enough. On Sunday, Erdogan told Sweden and Finland that "first of all, you have to hand more than 100, around 130 of these terrorists to us." If this isn't done it would be impossible to ratify the two nations' NATO applications in the Turkish parliament, he warned.
You can share this story on social media: