Türkiye summons Swedish ambassador over Erdogan effigy
Demonstrators in Stockholm hung a puppet of the Turkish leader upside down from a lamp post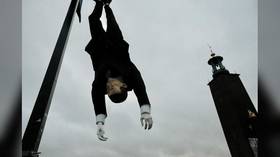 Ankara has accused Sweden of not taking necessary steps against terrorism after a group of demonstrators strung up an effigy of Turkish President Recep Tayyip Erdogan on a bridge near Stockholm City Hall. On Thursday, the Turkish Foreign Ministry summoned Sweden's ambassador to voice its anger.
The stunt was apparently organized by the Rojava Solidarity Committee of Sweden, a group associated with the Kurdish Workers Party (PKK), which is banned in Türkiye as a "terrorist" organization.
"History shows how dictators end up," the group wrote in a social media post comparing Erdogan to Italy's fascist dictator Benito Mussolini, who was hung upside down after his execution near the end of WWII.
"Our expectation that the perpetrators of the incident need to be identified, the necessary processes be carried out and Sweden uphold its promises was emphasized," a Turkish diplomatic source told Reuters.
Fahrettin Altun, the Turkish presidency's communications director, also said that the incident was a sign that Sweden has not fully committed to battling terrorism.
That PKK terrorist can challenge the Swedish government at the heart of Stockholm is proof that the Swedish authorities have not taken necessary steps against terrorism – as they have been claiming in recent days.

— Fahrettin Altun (@fahrettinaltun) January 12, 2023
Sweden's Ministry of Foreign Affairs has confirmed that the ambassador was summoned to the foreign ministry in Ankara but has not provided any details on what was discussed during the meeting.
Tobial Billstrom, the Swedish foreign minister, stated however that his government strongly condemns "threats and hatred against political representatives" and said further that "portraying a popularly elected president as being executed outside City Hall is abhorrent."
Türkiye and Hungary are currently the only two countries yet to officially approve Sweden's accession to NATO. In exchange for backing its bid, Ankara has demanded that Stockholm take a clear stance against the Kurdish Workers Party (PKK) and other groups it condemns.
In late June, Sweden and Finland, which is also seeking NATO membership, signed a three-way agreement with Türkiye designed to address Ankara's concerns. The document includes a commitment from the Nordic countries to denounce and deport individuals accused of terrorism.
You can share this story on social media: