Sweden complains NATO member is asking for the impossible
Türkiye is demanding too much, despite multiple concessions, Stockholm says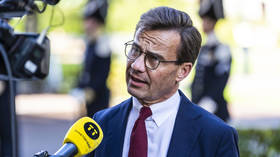 Swedish prime minister, Ulf Kristersson, has complained during a security conference on Sunday that Türkiye has piled impossible demands on the country as prerequisites for joining NATO.
Türkiye "has confirmed that we have done what we said we would do, but it also says that it wants things that we can't, that we don't want to, give it," he lamented. Still, he predicted Ankara would "make a decision, we just don't know when" – with the outcome dependent both on internal Turkish politics and "Sweden's capacity to show its seriousness."
One of just two members yet to approve Sweden's accession to NATO, Türkiye officially rescinded its objections in an agreement announced in June, stating at the time that it had "got what it wanted," including "full cooperation… in the fight against" terrorism, from both Sweden and fellow applicant Finland. Its objections had centered on the countries' support for the Kurdish Workers' Party (PKK), a group banned in Türkiye as a "terrorist" organization.
However, just days after Sweden's Supreme Court blocked the extradition of former newspaper editor Bulent Kenes last month, Turkish Foreign Minister Mevlut Cavusoglu scolded Stockholm for what he described as the lack of a "concrete development regarding the extradition of terrorism-related criminals and the freezing of their assets." The diplomat specifically referred to the Kenes case.
In denying Kenes' extradition, the court argued that some of the journalist's alleged crimes were not punishable by law in Sweden and suggested he would be subjected to political persecution if sent home. Kenes received political asylum in Sweden in 2016 following the failed coup against President Recep Tayyip Erdogan. Ankara has accused him of having foreknowledge of the coup attempt and being a member of a terrorist organization.
Swedes have urged their government to stand firm on judicial independence even if it means delaying joining NATO. A poll conducted earlier this month found 79% of respondents wanted Stockholm to "stand up for Swedish laws" in the face of Turkish demands, while just 10% suggested that the country should prioritize joining the bloc as soon as possible.
Sweden's troubles could delay the accession of its fellow applicant as well, as Finland doesn't want to move forward in ditching its longstanding neutrality without its neighbor. "Finland is not in such a rush to join NATO that we can't wait until Sweden gets the green light," Foreign Minister Pekka Haavisto told reporters on Sunday.
You can share this story on social media: