Swedes oppose Türkiye's NATO demands – poll
Almost 80% are against changing a law to fast-track joining the bloc, a DN/Ipsos survey has found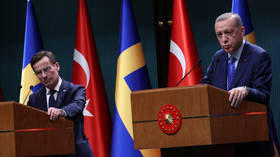 An overwhelming majority of Swedes believe their country should not betray its legal principles to meet Türkiye's conditions for ratifying Stockholm's NATO bid, according to a new Ipsos poll commissioned by Swedish daily Dagens Nyheter and released on Monday.
The survey found that 79% of respondents think their country should "stand up for Swedish laws" in the face of Türkiye's demands. This red line, they said, should not be crossed even "if that delays joining NATO."
Only 10% said that "Sweden should try to join NATO as soon as possible," even if it entails legal compromises, while 11% said they were not sure.
The poll shows only minor discrepancies in opinion between various social groups. Men are said to be more open to compromises with Ankara than women, although they also tend to insist on protecting the country's legal principles. As for differences along political lines, those who vote for right-wing parties are more inclined to agree to a give-and-take approach.
Despite the delays in joining NATO, the poll revealed that as many as 60% of Swedes still want to become part of the US-led military bloc, with only 19% opposing Stockholm's membership bid.
The survey, which was conducted between December 6 and 18, is based on 1,248 interviews with Swedish voters.
In June, NATO agreed to accept Sweden and Finland to the bloc, but their membership bid has yet to be ratified by all members of the alliance, with Hungary and Türkiye's approval still pending. Ankara has been reluctant to finalize the accession process, with President Recep Tayyip Erdogan pushing Sweden and Finland to do more to combat Kurdish "terrorism," including extraditing people that Türkiye accuses of having terrorist links.
In early December, Sweden reportedly made some progress in this regard, handing over a man to Türkiye who had been convicted in his home country of being a member of the Kurdistan Workers' Party. Two weeks later, however, Sweden's Supreme Court blocked the extradition of Bulent Kenes, a former editor-in-chief of Zaman Daily who Ankara accused of being involved in an attempt to topple Erdogan in 2016.
You can share this story on social media: