Türkiye adds uncertainty to Sweden's NATO bid
While Stockholm says it's in a "good position" regarding accession, Ankara is less enthusiastic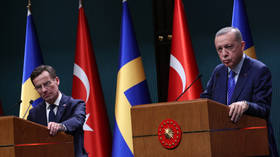 Top Swedish and Turkish officials have made contradictory statements on negotiations to unblock Stockholm's NATO bid. Speaking to reporters on Monday, Swedish Prime Minister Ulf Kristersson said the country was in a "very good position" – hours after Turkish President Recep Tayyip Erdogan demanded Stockholm surrender more than 100 individuals it deems to be "terrorists."
"The situation in terms of the negotiations, or rather the follow-up of the memorandum, is going well," Kristersson stated.
The Swedish PM's tone differed statements made by Erdogan late on Sunday.
"We said look, so if you don't hand over your terrorists to us, we can't pass [the ratification of the NATO bid] through the parliament anyway," he said. "For this to pass the parliament, first of all you have to hand more than 100, around 130 of these terrorists to us."
The remarks echoed statements made on Saturday by Ibrahim Kalin, Erdogan's spokesman, who noted time was running out for Ankara to ratify the bids by Sweden and Finland to join the bloc.
"Stockholm is fully committed to implementing the agreement that was signed last year in Madrid, but the country needs six more months to write new laws that would allow the judicial system to implement the new definitions of terrorism," Kalin stated.
In June last year, Sweden and Finland signed a three-way agreement with Türkiye designed to address Ankara's concerns over support for 'terrorism' and arms sales restrictions. The two Nordic countries pledged to denounce and extradite individuals Ankara accuses of terrorism, namely those said to be linked to the outlawed Kurdish Workers Party (PKK) and other groups.
Currently, Türkiye and Hungary remain the only two members of the US-led bloc yet to officially approve Sweden's NATO bid. Ties between Ankara and Stockholm were put under a new strain last week, after a group of demonstrators strung up an effigy of President Erdogan on a bridge near Stockholm City Hall. The display was apparently staged by the Rojava Solidarity Committee of Sweden, a group associated with the PKK.
Ankara condemned the stunt and summoned the Swedish ambassador over the offensive protest. Fahrettin Altun, the Turkish presidency's communications director, said the incident has clearly shown "that PKK terrorist can challenge the Swedish government at the heart of Stockholm" and is "proof that the Swedish authorities have not taken necessary steps against terrorism," despite their claims.
You can share this story on social media: