EU country's top diplomat warns against overkill in Russia sanctions
Austrian Foreign Minister Alexander Schallenberg believes the bloc must think of future relations with Moscow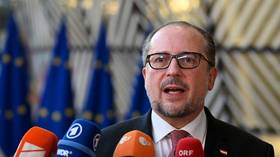 European countries should retain a sense of proportion when punishing Russia for its actions in Ukraine, Austrian Foreign Minister Alexander Schallenberg has argued. The diplomat warned against such punitive measures as a blanket visa ban for all Russian citizens.
Speaking at Sciences Po research university in Paris on Monday, Schallenberg said: "We shouldn't shoot over the target by, for example, imposing a visa ban for 144 million Russians."
The minister also said Russia would remain part of European history and culture despite current tensions between the EU and its eastern neighbor.
The Austrian diplomat made it clear, however, that Vienna unconditionally supports Ukraine in its conflict with Russia.
But, according to the minister, the West "must also think of the day afterward, the week afterward and the months that follow."
Schallenberg noted that Europe's security architecture would still include Russia, one way or another, in the future, taking into consideration its role as a permanent member of the UN Security Council and status as a nuclear power.
He went on to stress the importance of the Organization for Security and Cooperation in Europe (OSCE), and criticized Poland, which chaired the entity's latest meeting in early December, for barring Russian Foreign Minister Sergey Lavrov from the event.
"The OSCE is one of the few remaining platforms where Russian diplomats still sit and have to listen to our arguments, our sharp criticism of the Russian war of aggression," Austria's top diplomat explained.
Apart from retaining what he described as a sense of proportion, the West should also strive to stay united in 2023, the official argued.
He said "our conduct today will define the status of the free world in the coming years."
Russia sent troops into Ukraine on February 24, citing Kiev's failure to implement the Minsk agreements, designed to give the regions of Donetsk and Lugansk special status within the Ukrainian state. The protocols, brokered by Germany and France, were first signed in 2014. Former Ukrainian president Pyotr Poroshenko has since admitted that Kiev's main goal was to use the ceasefire to buy time and "create powerful armed forces."
Shortly before the hostilities broke out, the Kremlin recognized the Donbass republics as independent states and demanded that Ukraine officially declare itself a neutral country that will never join any Western military bloc. Last September, Donetsk and Lugansk, as well as Kherson and Zaporozhye regions, were incorporated into Russia following referendums.
You can share this story on social media: