Germany's biggest parliamentary party backs talks with Russia
New diplomatic initiatives are needed "whenever possible" to help end the conflict between Moscow and Kiev, according to a policy paper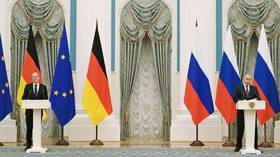 Germany should not lose sight of a potential diplomatic solution to the ongoing conflict between Moscow and Kiev as it provides military and financial aid to Ukraine, the Social Democrats (SPD), who constitute the biggest faction in the German parliament, said in a policy paper on Friday.
"We know that wars do not usually end on the battlefield," the faction said in a nine-page foreign policy outline, adding that keeping the door open for diplomatic solutions is no less important than supporting Ukraine.
"Diplomatic talks must remain possible" even if trust in Moscow is extremely low now, the faction insisted, adding that the regular talks Chancellor Olaf Scholz – himself a Social Democrat – held with Russian President Vladimir Putin "are right and necessary."
Further diplomatic initiatives will still be required "whenever possible" to end the ongoing hostilities, the document said, adding that such efforts are particularly needed "within the framework of the United Nations."
The Social Democrats also pointed to the fact that "agreements could be reached" in some very specific areas even amid the ongoing conflict. The faction brought up prisoner exchanges between Ukraine and Russia, as well as the grain deal reached by the two sides through mediation by the UN and Türkiye last summer, as successful examples of such "small steps."
"It is necessary to build up on these initiatives in the field of arms control, for example," the faction suggested. According to the Social Democrats, the diplomatic approach towards resolving the ongoing conflict could be based on this "policy of taking small steps, launching confidence-building initiatives in manageable areas and regularly reviewing their effectiveness."
At the same time, the faction repeatedly stated in its policy paper that it "stands firmly in solidarity with Ukraine" and condemns Russia for its ongoing military operation.
Over the past year, German Chancellor Olaf Scholz has emerged as a fervent advocate of continued dialogue with Moscow, unlike his coalition partner and German Foreign Minister Annalena Baerbock, who took a hardline stance towards Russia.
Moscow has repeatedly indicated throughout the conflict that it was ready for peace talks with Kiev if it accepted the situation on the ground and the will of the four former Ukrainian regions that voted to join Russia in a referendum last fall. Earlier this week, Kremlin spokesman Dmitry Peskov said that Moscow would prefer peace talks over fighting but the West and Ukraine are against engaging in diplomacy with Russia.
You can share this story on social media: