US expands Ukrainian troop training to Germany
The goal is to return 500 fighters to the battlefield in five to eight weeks, General Mark Milley says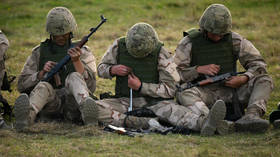 Washington kicked off its expanded training program for Ukrainian troops in Germany on Sunday, General Mark Milley, the chairman of the US Joint Chiefs of Staff, has said.
"This support is really important for Ukraine to be able to defend itself," Milley said on Monday, as quoted by AP. "And we're hoping to be able to pull this together here in short order."
The plan is for a battalion of some 500 troops to get back to fighting Russia in five to eight weeks, according to the general.
The launch of the training program follows an announcement by the US earlier this month that it would be sending dozens of Bradley infantry vehicles to Ukraine, with Germany and France also promising to supply similar armor. At the weekend, the UK officially confirmed that it would provide 14 Challenger 2 main battle tanks to Kiev, with NATO Secretary General Jens Stoltenberg considering the provision of more "heavy warfare equipment" for the Zelensky government from the West in "the near future."
It would be "ideal" if the newly trained Ukrainian troops were back in action and able to use this hardware "sometime before the spring rains show up," Milley said.
The chairman of the Joint Chiefs of Staff is expected to visit the Grafenwoehr training base in Germany's Bavaria on Monday to take a first-hand look at the program.
The so-called combined arms training will see US instructors teaching Ukrainian servicemen to better coordinate their company- and battalion-size units, jointly using artillery, armor and ground forces. Those skills should allow them to resist Russian attacks more effectively and carry out offensive operations of their own, according to AP.
Milley pointed out that the US had been providing this type of training to the Ukrainians before the conflict between Moscow and Kiev began. Since last February, the Americans have been more focused on teaching Kiev's soldiers to operate specific US-supplied equipment, including HIMARS multiple rocket launchers and M777 howitzers. Over 3,100 servicemen have received such training so far, the general said.
Last week, Kremlin spokesman Dmitry Peskov insisted that the US and NATO "de facto… have already become an indirect party" to the conflict between Russia and Ukraine. Their extensive assistance to Kiev has made their involvement "obvious," he said.
You can share this story on social media: