US state senator points to 'threat' from Ukrainian troops
Trainees in Oklahoma could misfire a missile and endanger civilians, as Kiev's troops did in Poland, Nathan Dahm argued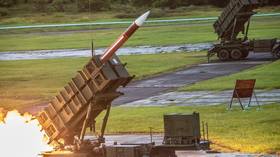 An Oklahoma senator is seeking to derail the Pentagon's plan to train some 100 Ukrainian troops at Fort Sill in his state. Nathan Dahm, who styles himself as the state's most conservative lawmaker, submitted a draft resolution on Wednesday claiming servicemen who are not from a NATO nation may pose a threat to local residents.
The proposed document aims to block plans to train Ukrainian forces in the use of Patriot air defense systems at the Oklahoma military base. The lawmaker cited the incident in November when an anti-aircraft missile fired by Ukraine veered into Polish airspace and killed two civilians in a border village.
"The citizens of Oklahoma need not be under threat of a similar failure impacting our people," the document, which Dahm shared on Twitter, read.
He argued that the US should not be obliged to train the Ukrainians since their country is not a NATO member and the US never formally declared war against Russia in support of Kiev. If adopted, the resolution would urge the state government to use its authority "to keep foreign soldiers off" of Oklahoma soil.
However, Dahm's stance toward the Pentagon's plans was rejected by some of his fellow legislators. A statement from the State Department responding to his proposal said that Oklahoma "has had partnerships with military forces from partner countries … for decades" and claimed that cutting them would jeopardize US national security. The rebuke was signed by seven state senators, all of them fellow Republicans, including State President Pro Tempore Greg Treat.
Dahm brushed off critics of his proposal on social media. He said he was putting his country and Oklahomans first, and was not interested in the opinions of "foreigners and bots."
The planned training program at Fort Sill is intended to prepare Kiev's military to receive a Patriot battery, which the Biden administration has pledged to provide. It usually takes months to teach a crew to operate the highly sophisticated weapons system.
Washington claims it does not want to get its own troops directly involved in the Ukraine conflict, but pledged to provide weapons, training, funding, and support to Kiev's army "for as long as it takes" to defeat Russia. Some conservative politicians in the US oppose the open-ended policy for various reasons, including its cost and possible corruption.
You can share this story on social media: