Kiev clarifies timeline for Patriot delivery
Ukraine could receive US-made air-defense systems by mid-spring, a presidential aide has revealed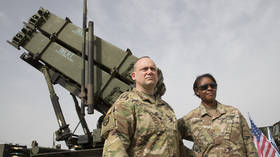 Ukrainian forces will be able to start deploying US-made Patriot air-defense systems within months or even weeks, an aide to President Vladimir Zelensky revealed on Tuesday.
During an interview with Ukrainian journalist Vassily Golovanov, Mikhail Podoliak stated that "from one-and-a-half to three months would be required for [personnel] training and logistical delivery of these systems."
He said Kiev's forces would probably be able to use Patriots on the battlefield "closer to the start of mid-spring."
Podoliak noted that two Patriot batteries are scheduled to be sent to Ukraine, with one promised by the US, and another by Germany. "One battery includes eight launchers. Regarding their installation, it is already being worked out how they will be delivered here in logistical terms," he said.
The presidential aide also claimed that Kiev was holding intense talks over the delivery of the long-range Army Tactical Missile Systems (ATACMS), arguing that this would help Kiev to target Moscow's munitions stockpiles. The US has so far refused to supply Ukraine with this type of weaponry over fears that it could escalate the conflict.
On Tuesday, the Pentagon said Ukrainian troops were poised to start training personnel how to operate Patriot missile systems on US soil at Fort Sill, Oklahoma as early as next week. Between 90 and 100 Ukrainian service members are expected to receive training in this particular location. The Pentagon said the entire process would last "several months."
Last week, Ukrainian Foreign Minister Dmitry Kuleba said Kiev expects Patriots "to be deployed as soon as possible," adding that the preparation for "the handover of these systems has already started." The exact timeframe for the delivery, however, remains unclear.
In late December, Russian Foreign Minister Sergey Lavrov revealed that Washington had assured Moscow that US service members would not be deployed in Ukraine to operate Patriot systems. At the time, the minister noted that this was because the US does not want to get involved in direct conflict with Russia.
Moscow has repeatedly warned Ukraine's Western backers against supplying Kiev with weaponry, arguing that this would only prolong the conflict. Russia has also denounced the decision to send Patriots to Ukraine as "provocative," warning that these systems would become "legitimate priority targets" for Russian forces.
You can share this story on social media: