Drive-by shooting outside London church injures four
Anyone with video footage of the incident has been urged to contact police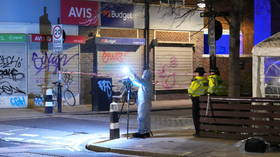 A seven-year-old girl and three women have been injured in a drive-by shooting near a church in central London that was hosting a funeral at the time of the attack.
Police were called to the scene outside the St. Aloysius Roman Catholic Church, located near Euston railway station in London's Camden borough, around 1:30 p.m. on Saturday. Shots were apparently fired in the vicinity of the church from a moving vehicle, which fled the scene, according to a statement by the Metropolitan Police Service's Camden branch.
The seven-year-old girl was taken to a nearby hospital with unknown injuries before officers arrived on scene. A 48-year-old woman was hospitalized with "potentially life-changing injuries," police said. The other two victims, aged 41 and 54 respectively, suffered injuries that weren't considered life-threatening.
No arrests have been made, and detectives have urged people with video footage of the incident or who use CCTV cameras in the area to contact police. People were evacuated from the church through a side entrance, the BBC reported.
Violent crime in London has climbed steadily in recent years. The city has about 200 active gangs, which are largely responsible for violence among teenagers, Sky News reported in November 2021. The Euston area has around 400 crimes reported per 1,000 residents annually, according to police data, more than triple the rate for London as a whole.
You can share this story on social media: