Israel halts subsidies to immigrants fleeing Ukraine conflict – media
Funding for the special grants has reportedly run out, leaving some struggling to pay rent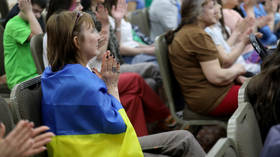 Thousands of immigrants who came to Israel citing the conflict in Ukraine will stop receiving special monthly payments in the coming months, the daily Haaretz reported on Friday. The Israeli government is currently sourcing money for the December payments, which were missed due to a budget shortage.
The "special adjustment grant" program was enacted in February 2022 via temporary order, which the Aliyah and Integration Ministry has reportedly decided not to extend, according to Haaretz. Data seen by the newspaper suggests almost 24,000 immigrants had received at least one payment.
Under the program's provisions, a single immigrant was entitled to 2,300 shekels ($672) a month. A family with two children was eligible for 2,900 shekels ($847), while a family with three children would receive 3,400 ($994).
"The grant is continuing to be paid to immigrants who arrived by August and for a year from their aliyah [date]," the ministry said in a statement, using the Hebrew term for Jewish immigration to Israel. However, the ministry found itself 20 million shekels ($5.9 million) short at the end of 2022.
Citing "an absence of approved state funding" as the reason for missing some of the December payments, Aliyah Minister Ofir Sofer's office said they were working with the Finance Ministry to "free up" money so the remainder can be disbursed.
Though Haaretz spoke of immigrants from Ukraine, the two families the outlet highlighted had actually come from Russia. One of them mentioned being "forced to leave" last May because of "being called up to the military," though Moscow had not announced a partial mobilization until September.
Israel has taken in about 15,000 non-Jewish refugees from Ukraine. About 100 of them were evicted from state-sponsored housing in December, with the government pointing out that the program was initially limited to three months and had been extended "time and time again."
While West Jerusalem has expressed verbal support for Kiev in the ongoing conflict, it has sent Ukraine only humanitarian aid, declining to provide weapons. Ukrainian officials have repeatedly pressured Israel to "take the right side," even enlisting help from the US. Earlier this month, however, PM Benjamin Netanyahu said his government would pursue policies in the national interest, rather than in line with international dictates.
You can share this story on social media: