Kiev envoy explains postponed Israel-Ukraine phone call
"Technical problems" are to blame, Evgeny Korniychuk said after slamming West Jerusalem for engaging with Russia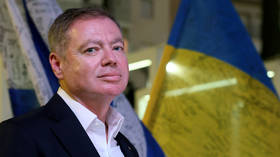 Ukraine and Israel have postponed a phone call between their foreign ministers, Evgeny Korniychuk, Kiev's ambassador to West Jerusalem, said on Thursday. This comes after the envoy expressed discontent with the ongoing dialogue between Israel and Russia.
Speaking to i24NEWS, Korniychuk said that the planned call between Ukrainian Foreign Minister Dmitry Kuleba and his Israeli counterpart, Eli Cohen, was delayed due to "technical problems." The call has been rescheduled for next week, he added.
His comments came amid a Times of Israel report which, citing Ukrainian sources, said the delay was caused by the ongoing hostilities and should not be seen as "an expression of Kiev's displeasure at Israel."
Last week, Russian Foreign Minister Sergey Lavrov and Cohen spoke on the phone, which left Kiev fuming. At the time, Korniychuk said the move could be interpreted as a change in Israel's foreign policy, pointing out that its foreign minister had not spoken to Lavrov since the conflict between Moscow and Kiev broke out in late February.
This notion was dismissed by an Israeli official who told The Times of Israel that "there is no change in Israel's policy" regarding the Ukraine conflict.
Commenting on the Lavrov-Cohen call, Korniychuk said it "wasn't very promising to us … But we think it's too early to judge, and we will try to keep the dialogue on a friendly basis and explain what our priorities are."
Last week, Cohen, who was appointed as foreign minister in late December, signaled that West Jerusalem would "talk less" about the ongoing hostilities, while vowing that Israel would continue to send "significant humanitarian aid" to Ukraine.
Two days later, Israeli Prime Minister Benjamin Netanyahu announced that his country would revise its foreign policy in a way to make it more suited to its national interests instead of "giving in to dictates from the international community."
Following the start of Moscow's military operation in Ukraine, Israel condemned Russia's actions, but stopped short of taking part in the Western sanctions or providing Kiev with weapons. West Jerusalem rejected Kiev's calls to send Iron Dome air defense systems, arguing that it does not "have a large enough production base" to meet Ukraine's needs.
You can share this story on social media: