UFO sightings on the rise – Pentagon
Over 366 incidents have been registered in just the past two years, according to a new report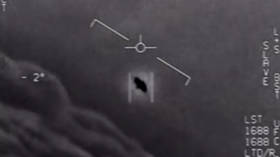 US government agencies saw a significant increase in incidents involving unidentified flying objects (UFOs) between 2021 and 2022, partly due to a better understanding of the threats they may pose, according to an unclassified version of a new Pentagon report released on Thursday.
The document, entitled '2022 Annual Report on Unidentified Aerial Phenomena' – most commonly referred to as UFOs or UAP– was compiled by the Pentagon's Office of the Director of National Intelligence (ODNI). In total, it covers 510 sightings, documented up to late August 2022.
This number includes 144 UAP reports, which were examined in the 17 years before March 2021 and counted in a preliminary assessment by the ODNI. However, between that date and August 2022 the number of reported UFO sightings skyrocketed, reaching 366.
The document partially attributed this increase to "a better understanding of the possible threats that UAP may represent, either as safety of flight hazards or as potential adversary collection platforms." Another reason is the "reduced stigma surrounding UAP reporting," it added.
Out of 366 newly-registered sightings, 26 were characterized as Unmanned Aircraft Systems or objects that looked like one, and 163 were identified as "balloon or balloon-like entities." Another 6 were attributed to clutter. The Pentagon has been unable to explain the remaining 171 reports.
The report also said that "UAP events continue to occur in restricted or sensitive airspace, highlighting possible concerns for safety of flight or adversary collection activity." In this vein, Washington "will continue to investigate any evidence of possible foreign government involvement in UAP events," it added.
In October, the New York Times reported, citing unnamed US officials, that most recent UFO incidents are believed to stem from foreign surveillance operations, weather balloons or just airborne trash. Sue Gough, a Pentagon spokeswoman, said at the time that while government agencies are doing their best to identify UFOs, their sensors are often unable to collect "enough information to make a positive attribution."
In December, the US Department of Defense said that while it has received a lot of reports about unexplained aerial phenomena, it has not found any evidence of alien activity.
You can share this story on social media: