Taliban praises Afghanistan's first supercar
The Kabul-designed Mada-9 draws its power from a humble Toyota Corolla engine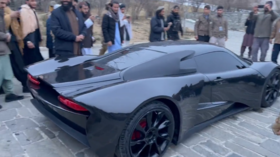 Taliban Education Minister Abdul Baqi Haqqani hailed Afghanistan's first indigenous "supercar" as proof that the militant group will promote "religious and modern sciences." The brainchild of a Kabul-based engineering firm, the Mada-9 hides a run-of-the-mill motor under its exotic curves.
Recently unveiled at Kabul's Afghanistan Technical Vocational Institute (ATVI), the Mada-9 is "firm and lightweight," and will help Afghanistan shake off its reputation for "wars and conflicts and misery," ATVI chief Ghulam Haidar Shuhamat told ToloNews on Tuesday.
Speaking at the workshop of its designer in the institute, Haqqani said that the project proves that the Taliban will bring "religious and modern sciences to the people," India's First Post reported on Wednesday. Zabiullah Mujahid, the Taliban's official spokesman, declared on Twitter that the car would raise Afghanistan's prestige.
از موتری که انجنیر محمدرضا محمدی انرا طرح و دیزان نموده است دیدن نمودیم.همچنان در ان نشست شرکت داشتیم که ازطرف تلویزیون ملی در باغ بابر برگزار شده بود.از اداره تعلیمات مسلکی تشکری می نمایم که تحت چتر آنها به نخبه های کشور زمینه خدمات شایان فراهم شده است. pic.twitter.com/g4HtFo7lRs

— Zabihullah (..ذبـــــیح الله م ) (@Zabehulah_M33) January 10, 2023
Despite glowing praise from the militants, the car was in development for several years before the Taliban retook control of Afghanistan following the US withdrawal in 2021. Designer Mohammad Riza Ahmadi said that it took him and a team of 30 engineers five years to go from an idea to a working prototype.
The version displayed at ATVI has a tubular frame and pushrod suspension, a setup that debuted on Formula 1 cars in the 1960s. Like the Italian supercars it apes in the design department, the Mada-9's engine sits behind the driver.
A group of young automotive engineers in Afghanistan have built a genuine supercar…They took internals from a Toyota Corolla and produced a space frame and incredible bodywork to create this crazy machine. It's called the Mada 9. pic.twitter.com/DOueisZ7u6

— Esfandyar Batmanghelidj (@yarbatman) January 3, 2023
The engine itself is a four-cylinder Toyota unit. Based on a video posted to social media by Ahmadi last month, it appears to be a 1.8 liter 1ZZ engine, which powered more than a dozen of the Japanese company's economy vehicles in the late 1990s and early 2000s.
However, while the 1ZZ only put out a maximum of 130 horsepower when fitted to a Corolla of the time, British carmaker Lotus fitted an upgraded version with a supercharger and installed it in its lightweight Elise, where it made 218hp and propelled the two-seater sports car to 100 km/h in just over four seconds.
Ahmadi told ToloNews that he intends to display the vehicle at an upcoming expo in Qatar, adding that "it will start its journey in Afghanistan and will one day maybe go international."
You can share this story on social media: