White House confirms Biden had second set of classified documents
The files dated from his time as vice president, with the first batch reportedly covering Ukraine and Iran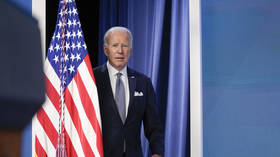 President Joe Biden's lawyers found classified government documents in a garage at his house in Delaware, White House special counsel Richard Sauber said on Thursday. Biden admitted days earlier that a first tranche of files had been kept in a Pennsylvania think tank office.
The lawyers found "a small number of additional Obama-Biden Administration records with classified markings" in a storage space in Biden's garage, Sauber said in a statement, adding that Biden's legal team had handed the files over to the Department of Justice.
Sauber did not explain how long the documents had been in Biden's garage or when they were discovered.
His statement confirmed media reports on Wednesday on the discovery of a second batch of files. These reports came three days after CBS News revealed that a first batch of documents were discovered in early November at the Penn Biden Center for Diplomacy and Global Engagement, an organization affiliated with the University of Pennsylvania.
Reportedly stored in a box alongside unclassified materials, the Biden Center documents included sensitive information on Ukraine, Iran, and the UK, CNN reported on Tuesday. This stash was uncovered when Biden's attorneys prepared to vacate an office space at the center, Sauber said.
Biden told reporters on Tuesday that he was "surprised" to learn of the discovery, adding that he doesn't "know what's in the documents."
The Justice Department is currently conducting a review of the files. However, it is still unclear whether Attorney General Merrick Garland plans on appointing a special counsel to investigate the president, as he did last year over former President Donald Trump's alleged mishandling of classified documents. According to an anonymously-sourced Bloomberg report on Thursday, Garland "has considered" such a move.
Trump's Mar-a-Lago estate in Florida was raided by armed FBI agents last August, in a pre-dawn operation that recovered hundreds of government documents. Trump claims that he declassified the files before taking them to Mar-a-Lago, and accused the Biden administration and FBI of orchestrating a "witch hunt" against him, in a bid to thwart his 2024 election campaign.
Before the White House admitted that Biden also kept government documents on his property, the president condemned Trump for doing the same. Biden told CBS News in September that he wondered "How that could possibly happen, how anyone could be that irresponsible."
You can share this story on social media: