Snowden identifies 'real scandal' regarding Biden docs
The story about classified materials found in an office linked to the US president was suppressed days before the midterms, the whistleblower has claimed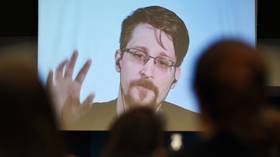 US President Joe Biden has probably made off with more classified documents than many whistleblowers, but unlike them he will get away with it, former CIA and National Security Agency contractor Edward Snowden suggested on Wednesday.
In a series of tweets, the whistleblower commented on a recent controversy surrounding sensitive Obama-era documents discovered at Biden's vice-presidential office by his attorneys. The White House has acknowledged the incident and the US Justice Department is currently looking into the matter.
"Worth noting that the President seems to have absconded with more classified documents than many whistleblowers," Snowden wrote, comparing the situation with the case of Reality Winner who "was sentenced to 5 YEARS for just one document." The former NSA translator was convicted in 2018 of leaking a report about alleged Russian interference in the 2016 US elections.
"Meanwhile Biden, Trump, Clinton, Petraeus... these guys have dozens, hundreds [of documents]. No jail," the whistleblower added.
Snowden went on to say that "the real scandal isn't that Biden had classified documents coming out of his socks, because sadly they've all been doing it. The scandal is that the DOJ found out about it a week prior to the midterm elections and chose to suppress the story, conferring a partisan advantage."
Snowden is known for leaking classified documents exposing Washington's surveillance efforts that targeted American civilians.
The story about Biden's documents was first broken by CBS News on Monday, which reported that the president's personal attorneys had found the documents at the Penn Biden Center for Diplomacy and Global Engagement of the University of Pennsylvania on November 2 and reported them to the authorities.
On Wednesday, NBC News reported, citing sources, that Biden aides had discovered at least one other batch of classified documents at another location.
This bombshell infuriated Republicans, with some drawing parallels with the FBI raid at the residence of former President Donald Trump in search of classified materials. The agency reportedly seized around 300 sensitive files from the ex-president's estate.
The White House, however, insisted that the two cases are different, claiming that, unlike Trump, Biden had not been notified that he was in possession of the documents, nor had he been asked to return them. Rather, he swiftly revealed the discovery to the National Archives and turned over the papers.
You can share this story on social media: