Details emerge of classified docs found at Biden think tank – CNN
The papers reportedly contain sensitive information on Ukraine, Iran and the UK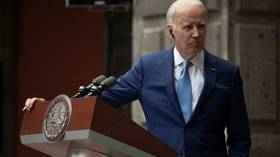 Obama-era sensitive documents discovered at a think tank closely tied to US President Joe Biden include materials covering such topics as Ukraine, Iran and the UK, CNN reported on Tuesday, citing sources.
A day earlier, CBS News reported that on November 2 Biden's personal attorneys found a number of classified documents at the former office of the US President. The discovery was said to have happened at the Penn Biden Center for Diplomacy and Global Engagement of the University of Pennsylvania, with the attorneys reporting it to the US National Archives.
The White House has acknowledged the incident, with Biden himself saying that he was "surprised," reiterating that his team is "fully cooperating with the review" being conducted by the Justice Department.
According to a CNN source, the sensitive documents were dated between 2013 and 2016 and included intelligence memos and briefing materials on a number of foreign countries. Most of the discovered items were of personal significance to the Biden family, including papers about the funeral arrangements of Beau Biden, the president's late son, as well as condolence letters.
The US Justice Department has assigned the US attorney in Chicago to look into the matter, several US outlets reported. Meanwhile, according to a CNN source, Attorney General Merrick Garland has received a preliminary report on the inquiry and now has to decide what action to take, which could include opening a full-blown criminal investigation.
The controversy surrounding the classified docs has put Biden in a tough spot, given that just several months ago he chastised former President Donald Trump for irresponsibly hoarding sensitive papers at his private residence in Mar-a-Lago. In August, the FBI raided the property in search of the materials, which the ex-president had refused to hand over to the National Archives after leaving office. At the time, the agency reportedly seized 300 sensitive documents.
Following the revelation, Trump drew parallels between the two incidents, arguing that the FBI should now also raid the White House. However, the White House argues that the circumstances of the two cases are completely different, given that Biden had not been notified that he had the documents, nor was he asked to return them. The president's team also swiftly revealed the discovery to the National Archives and handed in the papers, it said.
You can share this story on social media: