Classified docs found at Biden think tank – media
The US President had previously claimed Donald Trump was "totally irresponsible" for holding classified files at his residence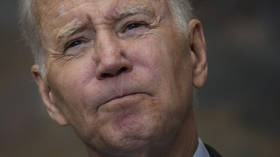 The US Department of Justice is reportedly investigating the discovery of classified materials at a Washington DC think tank closely linked to President Joe Biden. Last August, the FBI raided the Florida home of former president Donald Trump, claiming he was improperly storing classified government documents there.
The discovery was made in early November at the Penn Biden Center for Diplomacy and Global Engagement, an organization affiliated with the University of Pennsylvania, CBS News reported on Monday.
The "roughly 10" documents, reportedly stored in a box alongside non-classified materials, date back to the Barack Obama administration and originate from Biden's time as vice president, according to CBS.
Biden's attorneys found the papers and informed the National Archives, with the agency taking possession of them the following morning, sources told the news outlet. US Attorney for the Northern District of Illinois John Lausch has been assigned to conduct a preliminary investigation into the issue.
Sources said Biden was unaware of the contents of the documents found at the Penn Biden Center.
Biden's think tank was launched in 2018 and was staffed by many former Obama administration members, some of whom later transitioned to the incumbent's team. Biden used the premises of the center from mid-2017 until the spring of 2019.
Last summer, a stand-off occurred between the federal government and former President Trump, when the FBI executed a search warrant at his private residence, Mar-a-Lago. Trump resisted requests by the National Archives to return documents that he was allegedly improperly holding. The FBI reportedly recovered some 300 classified files in Trump's possession.
Commenting on the confrontation at the time, Biden called Trump's behavior "totally irresponsible." Some Republican politicians have argued that two cases were similar.
"What's the difference in what President Trump did versus what we now know President Biden did?" James Comer, the incoming House Oversight Committee chairman, asked.
You can share this story on social media: