US Republicans see new reason to investigate Joe Biden
The president may have mishandled classified documents, Senator Lindsey Graham has said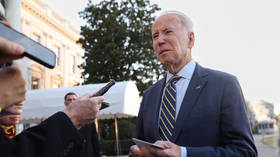 Republicans have urged US Attorney General Merrick Garland to appoint a special counsel to investigate the possible mishandling of government records by President Joe Biden. The appeal came after a number of classified files were found in Biden's former office, which he used while serving as vice president between 2009 and 2017.
Lindsey Graham, a senior member of the Senate Judiciary Committee, argued that Garland should initiate a probe similar to the ongoing investigation of former President Donald Trump.
"I think if you believe a special counsel is necessary to assure the public about the handling of classified documents by Donald Trump, you should apply a special counsel to the mishandling of classified documents by President Biden when he was vice president," the Republican senator told Fox News.
Senator Josh Hawley also called for investigating Biden. "It can't be that we have two tiers of justice in this country. It can't be that there's one rule for Republicans and a different rule for Democrats," he said while appearing on Fox News. "The Democrats say they're all for equity. Well, what's equitable here is that there be a special counsel."
The White House acknowledged on Monday that "a small number" of classified documents were discovered in Biden's former office in Washington in November. According to US media, Garland appointed prosecutor John R. Lausch Jr. to conduct an initial inquiry into the matter.
A number of US news outlets cited sources on Wednesday as saying that Biden's aides had discovered at least one additional batch of classified documents at a separate location related to the president.
Biden said on Tuesday that he was "surprised" when learning about the discovery. "I don't know what's in the documents," the president told reporters during his trip to Mexico.
The incident immediately drew comparisons to the similar allegations against Trump. FBI agents raided the former president's Mar-a-Lago residence in Florida in August, retrieving troves of government records, which included classified materials. Garland eventually appointed prosecutor Jack Smith as special counsel to investigate Trump in connection to the documents, as well as the 2021 US Capitol riot in Washington.
Outgoing presidents must return all presidential records to the government because they are considered the property of the American people. The official records of former presidents are stored in the National Archive.
Trump, however, denied mishandling classified documents. "When is the FBI going to raid the many homes of Joe Biden, perhaps even the White House? These documents were definitely not declassified," Trump wrote on his Truth Social account on Monday.
You can share this story on social media: