Ukraine reveals date for 'peace summit' without Russia
The UN-hosted event is scheduled for February 24, Kiev's envoy to Ankara has revealed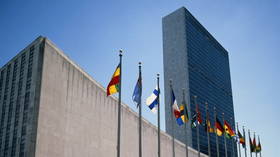 The Kiev government is pressing ahead with a "global peace summit," Ukrainian ambassador to Türkiye Vasily Bodnar said on Thursday. The event will be held at the UN headquarters in New York on February 24, Bodnar told Anadolu Agency. Though Russia has said it was open to talks, there was no indication that it would be invited.
The event was first proposed last month by Ukrainian Foreign Minister Dmitry Kuleba, who said it would be based on a 10-point "peace plan" previously outlined by President Vladimir Zelensky and should coincide with the anniversary of Russia's military operation in Ukraine. UN Secretary-General Antonio Gutteres said he would be ready to mediate such talks, but only if all parties agreed.
Ukraine, however, insisted that Russia must meet its conditions beforehand – including withdrawing to borders claimed by Kiev, paying reparations, and submitting to war crimes tribunals. Bodnar reiterated those conditions on Thursday, adding that Ukraine was fighting "a war for liberation and independence."
Russian President Vladimir Putin has said repeatedly that he is open to talks on Ukraine, but that Kiev refuses to negotiate. As for preconditions, the very least Kiev must do is "recognize the reality on the ground," including the new status of the regions of Donetsk, Lugansk, Kherson, and Zaporozhye as parts of Russia, the Kremlin has said.
On Wednesday, Kremlin spokesman Dmitry Peskov reminded journalists that Kiev's backers in the West had no intention of negotiating with Moscow.
"Under the circumstances, in which Westerners are apparently not prone to allowing Kiev any flexibility on the issue, we cannot say that there is any potential [for negotiations] at the moment," he said.
There has been some diplomacy between Moscow and Kiev, however. Human rights commissioners from the two countries met in Ankara this week, on the sidelines of an international conference. Türkiye has also helped negotiate an arrangement for exporting Ukrainian grain through a safe shipping corridor in the Black Sea.
Peace talks held in Istanbul last March, however, fell through after the West informed Kiev they wanted the conflict to continue, according to Ukrainian media.
The Istanbul example "clearly shows that they were slapped on the hand and told: 'It's too soon, you haven't exhausted Russia to the point we Americans think is enough'," Russian Foreign Minister Sergey Lavrov said in an interview last month.
You can share this story on social media: