Kremlin explains lack of peace talks on Ukraine
Kiev and Western nations oppose diplomacy with Moscow, a spokesman said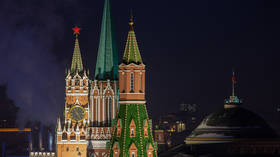 Russia would prefer peace talks with Ukraine over fighting, but sees no potential for them due to the positions taken by Kiev and its Western backers, Kremlin spokesman Dmitry Peskov has said.
The official reminded journalists on Wednesday that Ukrainian law "forbids the president of Ukraine [from having] any dialogue with us."
"Under the circumstances, in which Westerners are apparently not prone to allowing Kiev show any flexibility on the issue, we cannot say that there is any potential [for negotiations] at the moment," he added.
In October, Ukrainian President Vladimir Zelensky signed into law an order by the Security and Defense Council, which banned any talks with Russia while its President Vladimir Putin remains in office. Senior Ukrainian officials declared that talks with Moscow may only be possible after Kiev seizes control of all the land it considers to be under its sovereignty, including the Crimean Peninsula.
Moscow said it was on the verge of signing a truce with Kiev in early April, after a breakthrough was achieved during Türkiye-mediated talks in Istanbul. The Ukrainian government made a U-turn, however, which Russia believes to have been the result of Western meddling.
The US has declared "strategic defeat" of Russia in Ukraine as its policy goal and pledged to help Kiev "for as long as it takes" to achieve military victory. Moscow says Washington and its allies are waging a proxy war at the expense of the Ukrainian people.
Russia sent troops into Ukraine on February 24, citing Kiev's failure to implement the Minsk agreements, designed to give the regions of Donetsk and Lugansk special status within the Ukrainian state. The protocols, brokered by Germany and France, were first signed in 2014. Former Ukrainian president Pyotr Poroshenko has since admitted that Kiev's main goal was to use the ceasefire to buy time and "create powerful armed forces."
Moscow demands that Ukraine officially declare itself a neutral country that will never join any Western military bloc. Kiev insists the Russian offensive was completely unprovoked.
You can share this story on social media: