Lawsuit blames Trump for Capitol riot death
While Brian Sicknick died of natural causes after the unrest, his partner holds the ex-president responsible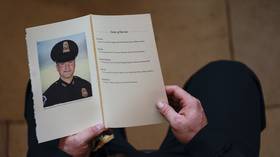 Former US President Donald Trump has been sued for the wrongful death of Capitol Police officer Brian Sicknick, who died of a stroke a day after Trump's supporters protested at the US Capitol on January 6, 2021.
Sicknick died a day after the riot, which Democrats and liberal media outlets have termed an "insurrection." Although he was assailed with bear spray during the riot, Washington medical examiner Francisco J. Diaz found no evidence that he suffered any allergic reaction to the spray or received any injuries at the Capitol, and his death a day later was a result of natural causes.
However, a lawsuit filed on Thursday by Sicknick's partner, Sandra Garza, blames Trump – along with two men already convicted for using the bear spray – for Sicknick's "wrongful death."
"Before directing the mob to the US Capitol, Defendant Trump instructed them to 'fight like hell' and declared that 'you're allowed to go by very different rules' and 'you have to show strength,'" the complaint alleges. "Defendant Trump intended these words to be taken literally."
"The violence that followed, and the injuries that violence caused, including the injuries sustained by Officer Sicknick and his eventual death, were reasonable and foreseeable consequences of Defendant Trump's words and conduct," the document continues.
Garza is seeking $10 million in damages from Trump and $10 million from each of the two men who carried and used the bear spray.
Although Diaz already declared that Sicknick sustained no injuries on the day, he later told the Washington Post that the riot "played a role in his condition." Garza's lawsuit cites this statement as proof of Trump's guilt.
Trump has repeatedly denied encouraging violence on the day of the protest. In a speech outside the White House before his supporters descended on the Capitol, he urged them to demonstrate "peacefully and patriotically," and in his final two tweets that day, he told them to "support our Capitol Police and Law Enforcement," and to "remain peaceful."
Responding to news of the lawsuit, a spokesperson for the former president said that "President Trump is immune from frivolous attacks and will continue to be fully focused on his mission to Make America Great Again."
Four people – all Trump supporters – died at the Capitol on January 6, 2021. Two died of natural causes and one of an accidental overdose, while Air Force veteran Ashli Babbitt was shot by a Capitol Police officer near the entrance to the House chamber.
You can share this story on social media: