US Capitol Police hype up threat of 'unthinkable'
The law enforcement agency said more than 100 security improvements at the US Capitol may not be enough to prevent future unrest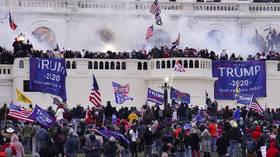 US Capitol Police has warned of future "attacks," similar to the riot that erupted in the halls of Congress following the 2020 presidential election, adding that despite all precautionary measures new unrest is possible given the "polarized state of our nation."
In a statement issued on Monday to mark the second anniversary of the January 6 riot, Capitol Police Chief Tom Manger said his department had been "working around the clock" to implement scores of security improvements to the complex.
"Make no mistake, there is still work to be done. The current threat climate, particularly against elected officials, will require continued and heightened vigilance," he said, adding: "With the polarized state of our nation, an attack like the one our Department endured on January 6, 2021, could be attempted again. Should the unthinkable happen, we will be ready."
In addition to hiring additional staff, creating better planning for "demonstrations and significant events" around the Capitol, and coordinating with "dozens" of policing agencies in the region, Manger said the department had brought on a new intelligence director and "dramatically improved the manner in which we collect, analyze, and share intelligence with our partner law enforcement agencies."
The Capitol Police have also introduced "specialized training" for officers – presumably to deal with protests and civil unrest – and "made significant equipment upgrades," the chief said, though did not specify the new gear acquired by the department.
The January 6 riot kicked off in the days after the 2020 presidential race, spearheaded by supporters of then-President Donald Trump, who repeatedly claimed the election was marred by widespread fraud in favor of Democratic nominee Joe Biden. While the demonstrators successfully pushed their way into the Capitol – in some cases allegedly with the help of local police – they accomplished little beyond vandalism to the building. A number of rioters lost their lives amid the chaos, including one woman fatally shot by police and multiple others who suffered medical episodes, while nearly 1,000 individuals later faced a harsh crackdown from local and federal law enforcement agencies.
Though many of the protesters were able to leave the Capitol following the riot, the FBI repeatedly called on the public to help identify those who participated in the months afterward, ultimately filing hundreds of charges, many of them felonies. Some corporate media outlets even joined in the hunt, with USA Today working to identify rioters to the public.
The incident triggered a second Democrat-led impeachment proceeding against Trump, with critics insisting he "incited" his supporters to storm the Capitol and stop lawmakers from certifying the election results. While the impeachment effort failed, Democrats and a handful of dissident Republicans have continued to press for charges against Trump, with a committee established to investigate the Capitol riot recommending a criminal case in its final report last month. Short of an indictment, however, some lawmakers have also called to bar Trump from returning to the White House, after he announced a 2024 presidential bid in November.
You can share this story on social media: