US House stuck in limbo
Congress remains in deadlock as insurgent Republicans continue to thwart Representative Kevin McCarthy's bid for House speaker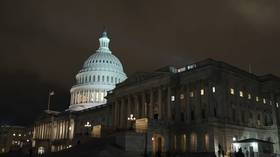 The US House of Representatives has adjourned yet again after lawmakers failed to appoint a new House speaker for the second day in a row, leaving Congress in disarray amid an uprising against Majority Leader Kevin McCarthy by rival Republicans.
Following the sixth failed attempt to fill the position on Wednesday, lawmakers agreed to return again the next afternoon for another round of voting. While McCarthy has the support of most House Republicans, he has been unable to garner the majority of votes needed to take up the speaker's gavel due to opposition from 20 fellow GOP members.
Initially rallying around Ohio Representative Jim Jordan for the first round of balloting, the 20 rebel Republicans later threw their support to Rep. Byron Donalds of Florida on Wednesday, still denying McCarthy the 218 votes required for a majority.
Even after two days of voting encompassing six separate ballots, McCarthy's path forward remains unclear, telling reporters on Wednesday night that he still has no deal with his opponents. Nonetheless, he noted "a lot of progress" had been made and voiced hopes for success in later voting, though did not specify what kind of compromises were on the table.
Led by the pro-Trump 'Freedom Caucus', McCarthy's critics have slammed the California lawmaker as overly moderate and too willing to capitulate to Democrats, with prominent caucus member Rep. Matt Gaetz suggesting he is "beholden to the lobbyists and special interests that have corrupted this place [Congress] and corrupted this nation under the leadership of both Republicans and Democrats."
Having recently lost their majority control of Congress as a result of November's midterm elections, Democrats have unified around their own new minority leader, Rep. Hakeem Jeffries, who has received more votes than McCarthy but still failed to reach the needed threshold to become speaker.
Without a speaker, the House remains in limbo, meaning lawmakers cannot be officially sworn into office and that all 434 members of Congress are technically serving as members-elect. The position is usually filled on the first day of a new congressional session and rarely goes beyond a single round of voting, with the last such case occurring 100 years ago, in 1923.
While the outcome of Thursday's votes remains to be seen, Democratic lawmaker and progressive stalwart Alexandria Ocasio-Cortez recently floated the somewhat unprecedented idea of a "coalition government," proposing that McCarthy may have to seek Democratic support to overcome his GOP critics and secure the speaker role – typically a partisan appointment.
You can share this story on social media: