Republican leader suffers once-in-a-century setback
Kevin McCarthy lost three consecutive votes to become House speaker amid resistance from within his own party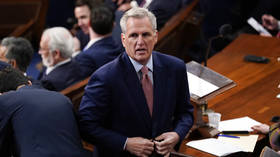 California Rep. Kevin McCarthy has lost his bid to become speaker of the House of Representatives, facing a band of rival Republicans and unanimous Democratic opposition. Considered too moderate by dissenting GOP members, McCarthy is the first party head to lose a speaker's contest in 100 years, leaving the lower chamber without a leader as lawmakers prepare for a second day of voting.
McCarthy failed to secure the 218 votes needed for a majority in three separate ballots on Tuesday, with 20 House Republicans instead backing Ohio Rep. Jim Jordan in the last round of voting. Democrats, meanwhile, unified behind Minority Leader Rep. Hakeem Jeffries, who ultimately received 212 votes on the third ballot, 10 more than McCarthy.
The Republican stalemate only deepened over the three votes, beginning with 19 GOP members but later growing to 20 on the last round of balloting. To become speaker, McCarthy required support from all but four Republicans given the party's narrow 222-213 majority in Congress.
The failure to select a new speaker was unusual, as the last time the contest went beyond a single round of voting was in 1923, when lawmakers took nine ballots to appoint Republican Frederick Gillett to the position. With no candidate taking a clear majority, Congress will convene again on Wednesday for another attempt, though the path forward for Republicans remains unclear given divisions within the party.
While Arizona's Andy Biggs was backed by 10 dissenting Republicans in the first round of voting, rival GOP support later solidified around Rep. Jordan on the two subsequent ballots. Although Jordan gave a speech endorsing McCarthy earlier in the afternoon, it appeared to have the opposite effect on more hardline Republicans.
The pro-Trump 'Freedom Caucus' has led opposition to McCarthy, whom they consider too open to compromise with the Democrats.
"We struggle with trust with Mr. McCarthy because time and again his viewpoints, his positions, they shift like sands underneath you," Florida Rep. Matt Gaetz, one of the most prominent of this group, told reporters before the vote.
Rep. Bryon Donalds, the sole Republican to switch support from McCarthy to Jordan after voting began on Tuesday, said the Ohio lawmaker would make a "tremendous speaker," also acknowledging that McCarthy simply "doesn't have the votes."
McCarthy told ABC News that the vote was "exactly what we thought it'd be," accusing Gaetz' caucus of "trying to fight for their own personal items instead of the country." He reportedly delivered an impassioned last-minute speech urging for Republican unity ahead of the ballots, but failed to win over his detractors.
With no viable alternative, it is unclear how many rounds of voting will need to be held before a speaker is chosen. No other House business can take place until a leader is selected, meaning Congress could grind to a halt if the GOP doesn't resolve the dissent in its ranks.
You can share this story on social media: