Embattled US House speaker hopeful claims Trump's support
The former president, however, refused to endorse McCarthy earlier on Tuesday, saying he would "see what happens"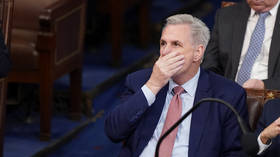 Republican Representative Kevin McCarthy has vowed to remain in the running for House speaker despite losing multiple votes for the position, claiming he has the backing of ex-President Donald Trump, even after the former leader signaled that he may withdraw his support.
Addressing reporters in the Capitol on Tuesday night following a private meeting with Republican allies, McCarthy was asked whether he still had Trump's endorsement for the House speaker role, answering "Oh yeah."
"Trump has already reiterated his support; I talked to him tonight," he said.
However, during an interview with NBC News earlier in the day, Trump was non-committal in his endorsement for McCarthy, which he first announced ahead of the midterm elections in November and again reiterated last month.
"I got everybody calling me wanting my support. But let's see what happens and we'll go... I got everybody calling, wanting my support. That's all I can say. But we'll see what happens. We'll see how it all works out," Trump said when asked about the California Republican.
McCarthy took over as House majority leader after the GOP resumed control of Congress following the midterms and was poised to become House speaker, with lawmakers meeting on Tuesday to fill the position. Due to opposition from 20 insurgent Republicans, however, he failed to earn a majority in three separate votes, with rival GOP members instead coalescing around Ohio Rep. Jim Jordan.
Democrats, meanwhile, voted unanimously for minority leader Rep. Hakeem Jeffries, who received 212 votes to McCarthy's 202, though neither were able to take a majority.
With the lower chamber still in need of a speaker, Congress will convene again on Wednesday for another round of votes, though it remains to be seen how the impasse among Republicans will be resolved.
You can share this story on social media: