Hurricane Ian relief caught in political crossfire
US media target Republican senator for previous vote on emergency funding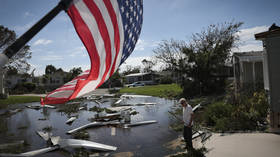 As Florida counted over 100 deaths and massive damage caused by Hurricane Ian, Senator Marco Rubio found himself questioned by ABC and CNN about another storm a decade ago. Both outlets brought up the Senator's vote against funding relief after Hurricane Sandy, asking if he will vote against helping his home state this time.
Rubio, a Republican, explained he voted against the Sandy relief bill because it had been "loaded up" with non-emergency items.
"Why should other senators vote for relief for your state when you didn't vote for a package to help theirs?" CNN's Dana Bash asked Rubio on her Sunday show, referring to the $50 billion bill to help New Jersey and other northeast states hit in 2012.
"I voted for every disaster relief package that's clean," Rubio replied, pointing out that the Sandy relief bill included funding for "a roof for a museum in Washington DC, for fisheries in Alaska, it had been loaded up with a bunch of things that had nothing to do with disaster relief."
ABC's Noah Karl also questioned Rubio about his Sandy vote, demanding to know if the Florida Republican would "take the same stand" when his own state was on the line. Again, Rubio said he had voted for many disaster relief bills, but objected to the provisions that should have gone through regular procedure, from the Smithsonian roof to new cars for Homeland Security.
"What I won't support is things that are not emergency relief," the senator insisted.
Both Bash and Karl demanded to know if Rubio would vote against Ian relief if it contained funding for unrelated matters, to which the senator replied that Florida won't ask for unrelated funds, so the question was moot.
"It's our state, so if we're not asking for that and we're saying we don't need it and it has nothing to do with emergency relief for Florida then why would it be in there?" Rubio told the ABC host.
Media and Democrats have also attacked Florida Governor Ron DeSantis, another Republican, over his handling of Hurricane Ian. The Category Five storm that hit last week killed at least 88 people, displaced more than 40,000 and caused billions in property damage.
Current polls show Rubio four points ahead of Democrat challenger Val Demings – a former manager in the first impeachment trial of President Donald Trump – ahead of the November midterm election. DeSantis is six points ahead of Democrat Charlie Crist.
You can share this story on social media: