US may disconnect Russia from GPS, space chief warns
Russians shouldn't be too nervous if this happens as they have their own GLONASS system, the head of Roscosmos has pointed out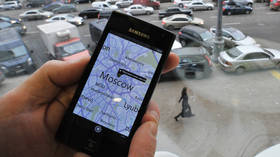 The US may unplug Russia from the GPS satellite navigation system as part of sanctions over the Ukrainian conflict, the head of Russia's space agency Roscosmos, Dmitry Rogozin, has said.
"Do you know that, now, within the framework of sanctions, the US is considering the possibility of disconnecting Russia from GPS? Do you know about this? You don't. But I can tell you that such an option is being considered," Rogozin told journalists on Saturday.
However, he said one shouldn't "get too nervous" were Washington to make such a move, as Russia has its own GLONASS positioning system, which is connected to every smartphone and remains operational.
No officials in Washington have yet publicly mentioned the possible disconnection of Russia from GPS as part of restrictions against the country.
Sanctions pressure on Moscow by the US, EU and their allies has been further intensified in the wake of the military operation in Ukraine. Among other things, the drastic new curbs have seen Russia being excluded from the global SWIFT payment system, having a huge portion of its foreign exchange reserves frozen, and witnessing numerous foreign brands leaving the local market.
Moscow sent its troops into the neighboring country in late February, following a seven-year standoff over Kiev's failure to implement the terms of the Minsk agreements, and Russia's eventual recognition of the breakaway Donbass republics in Donetsk and Lugansk. The German- and French-brokered protocols had been designed to regularize the status of those regions within the Ukrainian state.
Russia has now demanded that Ukraine officially declare itself a neutral country that will never join the US-led NATO military bloc. Kiev insists the Russian offensive was completely unprovoked and has denied claims it had been planning to retake the two republics by force.
You can share this story on social media: