UK PM 'takes responsibility' for attending Downing Street lockdown party
Boris Johnson said he "believed implicitly that this was a work event"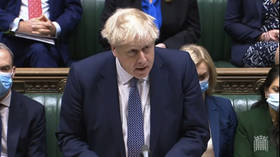 The British prime minister has said he would "take responsibility" after attending a garden party at Downing Street during a May 2020 lockdown. If he had the chance again, he'd have sent people back inside.
Speaking to Parliament on Wednesday, UK Prime Minister Boris Johnson said he wanted to apologize for attending the drinks gathering in the Downing Street garden, adding that he "must take responsibility" for the events that took place.
Johnson added that he "went into that garden just after 6pm on 20 May 2020 to thank groups of staff" but "believed implicitly that this was a work event."
"With hindsight, I should have sent everyone back inside. I should have found some other way to thank them."
Labour leader Keir Starmer claimed Johnson's excuse was "so ridiculous that it is actually offensive to the British people," as he demanded the British PM resign from his post.
The prime minister's office had previously refused to say whether Johnson attended the gathering in his garden with around 40 other people. The party, which brought together those working for the PM, took place at a time when gatherings were banned due to the Covid-19 lockdown.
"I know that millions of people across this country have made extraordinary sacrifices over the last 18 months. I know the anguish they have been through – unable to mourn their relatives, unable to live their lives as they want or to do the things they love," Johnson told fellow lawmakers.
He said he would await the results of an inquiry into the party, but noted: "I have learned enough to know there were things we simply did not get right."
Johnson said that even if the party is deemed to have fallen within the guidance, there are millions of people who won't see it that way.
He accepted that many people will be outraged and asked that the senior civil servant, Sue Gray, who is currently investigating alleged lockdown breaches by the government, be allowed to complete her inquiry into that day and other events.
You can share this story on social media: