Russia's neighbor to splash €10bn on F-35 fighter jets in record deal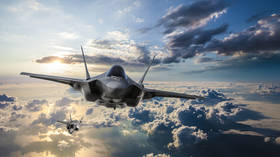 Finland has struck a deal with America's Lockheed Martin to buy a total of 64 F-35 fighter jets. The Finnish media is calling the €10 bn contract the largest of its kind in the country's history.  
The US jets are scheduled to replace Finland's Hornets, which will be gradually decommissioned beginning in 2025. With its decision, the Scandinavian country has joined nations like Norway, Denmark, Belgium, the Netherlands, the UK, Italy and Poland, which also opted for the American-made combat aircraft.
Lockheed Martin's F-35 was competing with jets manufactured by Saab AB, Dassault Aviation, and Boeing, as well as the European Eurofighter Typhoon.
The whopping €10 bn contract reportedly covers not only the procurement of the jets but also the creation of technical and training infrastructure in Finland, spare parts, and weapons.
The decision was announced on Friday, with the defense minister, Antti Kaikkonen, saying that "when comparing military performance, the F-35 best met our needs."
The battle between major arms manufacturers for the Finnish contract broke out back in 2015, when it became known that the country's air force started looking for a replacement for the ageing fighter jet fleet it had bought from an American company, McDonnell Douglas, in the early 1990's.
F-35 is a single-seat, single-engine, all-weather stealth multirole combat aircraft. Its first iteration took wing back in 2006, entering service with the US Marine Corps nine years later.
However, the F-35 rollout and usage has been met with criticism even at home, with its price tag and operational costs among the prime complaints. With a single jet costing the US government some $36,000 for every hour it spends in the sky, the Department of Defense is reportedly considering launching a new, less expensive project to fill the roles which do not require the F-35's level of avionics.
Back in July, General Charles Quinton Brown Jr., the Chief of Staff of the US Air Force, was cited by the media as saying the following: "You don't drive your Ferrari to work every day, you only drive it on Sundays. This is our 'high end' [fighter], we want to make sure we don't use it all for the low-end fight."
Just last month, a British F-35 crashed off an aircraft carrier into the sea during a routine exercise mission. Thankfully, the pilot managed to eject and did not sustain serious injuries.
You can share this story on social media: