Explosions at rocket factory near Belgrade kill 2 & injure 16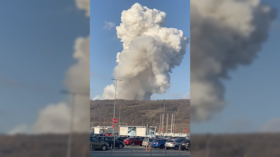 At least two people have died and 16 were injured after a number of explosions rocked a munitions factory in the Belgrade suburb of Leštane, Serbia's interior ministry has confirmed.
Photos and footage purportedly of the scene show huge clouds of white smoke billowing over the site, with a number of smaller blasts reported after an initial larger explosion.
The first blast took place at around 2pm local time (1pm GMT) on Tuesday, according to the Ministry of the Interior, in a warehouse storing some 500 explosives-laden rockets.
Authorities told local media that there was a real risk of further blasts.
The explosions took place at a rocket engine factory owned by EDePro. There were reportedly some 100 workers on shift at the facility at the time of the explosion.
Five ambulance crews were spotted heading to the scene in the immediate aftermath of the blasts, while police restricted traffic in the area. According to a Blic reporter, people were heard shouting for help from a forested area nearby.
Local residents claimed the ground had shaken for almost a minute after the initial explosion, while others said they thought the area was under attack.
Think your friends would be interested? Share this story!
You can share this story on social media: