China ready for 'decisive measures' over Taiwan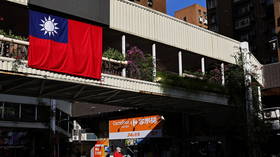 The Chinese envoy to the European Union has reiterated Beijing's goal of peacefully reuniting Taiwan with the mainland but stated the country's preparedness to use "decisive measures."
Speaking on Tuesday, China's ambassador to the EU, Zhang Ming, said Beijing would never change its position on Taiwan. "If anything changes, it is that the Chinese people's resolve to realize complete reunification of our country grows even stronger," Ming told an online think tank event in Brussels.
"Some people in Europe seem to underestimate the Chinese people's aspiration for a reunification of our country," he added, noting also that the bloc must lift its sanctions if a new Sino-EU investment deal is to be ratified.
In May, Brussels halted an investment pact agreed with China last December, after Beijing imposed sanctions on several members of the European Parliament. The EU responded, introducing its own sanctions related to the treatment of the Uyghur people and alleged genocide in Xinjiang.
In recent years, China has become increasingly assertive about reuniting its wealthy island neighbor with the mainland. Beijing claims Taiwan is an inalienable part of the country and has called on Western parties to refrain from interfering in Chinese internal affairs. Western nations, notably the US and UK, have shown willingness to defend the democratic island.
Taiwan considers itself to be independent of China since 1949 when the communist forces overthrew the government of the Republic of China on the mainland, forcing the Kuomintang-ruled state to relocate there.
If you like this story, share it with a friend!
You can share this story on social media: