Biden & Xi agree to avoid conflict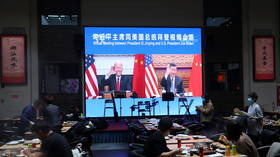 The US and Chinese leaders have held a lengthy virtual meeting on Tuesday, with Joe Biden and Xi Jinping expressing readiness to improve strained bilateral relations and make sure competition doesn't end in conflict.
Biden, who smiled and waved to Xi as he appeared on screen, said that the responsibility of the two was to ensure that "the competition between our countries does not veer into conflict, whether intended or unintended."
There should be "simple, straightforward competition" between Washington and Beijing, he added.
Xi also pointed out the need to "increase communication and cooperation" between the two nations. He said he was ready to work with Biden to "build consensus, take active steps and move China-US relations forward in a positive direction." However, he stressed that this process must be based on mutual respect.
The Chinese leader called Biden an "old friend" as they've known each other for years, working together when they were still vice presidents of their countries.
Despite the cheerful start of the meeting, which was initiated by the American side, there were a lot of difficult issues on the agenda. It came amid growing tensions between Washington and Beijing over US support of Taiwan's independence push and trade disputes, among other things. The US also claims China is committing human rights violations against the Uyghur population in the Xinjiang region – an accusation Beijing is strongly denying.
Speaking from the Roosevelt Room in the White House, Biden said that Washington believed that "all countries have to play by the same rules of the road," and insisted that the US "is always going to stand up for our interests and values and those of our allies and partners."
The comment could've been a nod to Taiwan, a self-governed island some 160 kilometers east of mainland China, which Beijing views as its breakaway territory. The US has been committed to the 'One China' policy since 1979 – and Biden again confirmed it to Xi during the talks – but has also maintained unofficial ties with Taipei, selling it weapons and warning that it was ready to help the island militarily if Beijing resorts to the use of force. China has been angered by those contacts, calling them meddling in its internal affairs.
"We are patient and willing to do our utmost to strive for the prospect of peaceful reunification" with Taiwan, Xi said. However, he reiterated to his American counterpart that China would take "decisive measures" if "pro-Taiwan independence" forces crossed a "red line."
The two leaders had "extended discussion" on Taiwan, with Biden directly telling his counterpart that China's behavior had been at odds with stability across the Taiwan strait, a senior US administration official told Reuters. However, he acknowledged that nothing new was established on Taiwan in terms of guardrails during the virtual sit-down.
The White House said that the US leader also raised concerns over human rights to Xi, especially singling out Xinjiang, Tibet and Hong Kong.
Xi pointed out that trade and economic cooperation between China and the US was mutually beneficial and a win-win for the two countries, insisting that such issues shouldn't be politicized. Ahead of the talks, the US officials warned that scaling back US tariffs on Chinese goods wasn't on Biden's agenda.
The Chinese leader spoke about the Covid-19 pandemic, which the US blames on China, saying that solidarity and cooperation were "the most powerful weapons" against the virus and calling on the world to unite against the threat.
The two presidents also pledged to work together on energy and climate issues during the negotiations, which the Chinese side described as "frank, constructive and fruitful."
It was the most extensive conversation between the two leaders since Biden took office. The two are yet to hold a face-to-face meeting, as Xi has been refraining from leaving China during the pandemic.
Like this story? Share it with a friend!
You can share this story on social media: