Military junta charges ousted leader Suu Kyi with election-rigging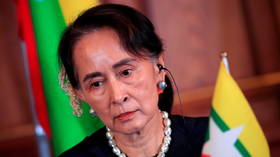 Sixteen Myanmar ex-officials, including deposed State Counsellor Aung San Suu Kyi and President Win Myint, have been slapped with new charges related to the 2020 election by the Asian country's military junta.
This week, 15 officials, including Suu Kyi, were charged with crimes related to the alleged rigging of the 2020 vote, , the national election body announced on Tuesday. Other targets of the accusations include ousted President Win Myint and the chairman of the election commission.
The November 2020 general election was won by Suu Kyi's party, the National League for Democracy (NLD). On February 1, the country's powerful military, which ruled as a dictatorship before a shaky transition to a representative democracy a decade earlier, launched a coup, deposing the civilian government. The military claimed the election was rigged in favor of the NLD and against the party they supported. The NLD side denied the claims while international observers said the election was mostly free and fair.
Suu Kyi has been in custody since being overthrown. She is currently being tried for flouting Covid-19 restrictions during campaigning. She was also charged with a number of crimes, from illegal importing of radios to corruption and sedition. The 76-year-old, who spent years under house arrest, faces decades in prison, if convicted.
The military coup was met with resistance by NLD supporters, to which the junta responded with a crackdown. Observers who are critical of the military claim as many as 1,250 people have been killed and over 10,000 arrested over the months of confrontation.
Many lawmakers from the NLD formed a rival government, which in September declared a "people's defensive war" against military rule. Suu Kyi refrained from commenting on the escalation.
Think your friends would be interested? Share this story!
You can share this story on social media: