Lockdown-ready Austria has its PCR system tricked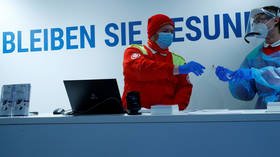 A state-supported Covid-19 PCR test system touted as one of the best in Austria was revealed to have glaring security issues after a journalist tricked it into issuing a negative test certificate to a cartoon character.
Children around the world can breathe a sigh of relief: Papa Smurf has not contracted Covid-19. That's according to the 'Alles Gurgelt!' rapid test system used in the Austrian capital, Vienna. The project, which is backed by the government of Vienna and offers free home tests, recently issued a Covid-19 certificate to the fictional cartoon character after he received a negative PCR test result.
The system, which is operated by Austrian company LEAD Horizon and Italian Lifebrain laboratory network, allows people to pick up test kits at shops and test themselves at home after registering with a special app. The test can then be submitted to a laboratory through another retail chain.
Verification involves filming yourself gargling the testing solution and sending the sample bottle to the laboratory. But when Kronen Zeitung editor Michael Pommer decided to check how thorough the widely-praised system is in its verification procedures, the results were not particularly reassuring.
Pommer registered with Alles Gurgelt! under his real name on Tuesday, but instead of filming himself gargling, he filmed an image of Papa Smurf and filled the sample bottle with tap water. Apparently, no one even saw the video, since Pommer successfully received a certificate, the Kronen Zeitung reported on Sunday, pointing out the "glaring security gaps" in the system, which Vienna's health minister, Peter Hacker, called "unique in the world," praising it as a "central component in Vienna's fight against the pandemic."
The minister warned that anyone who tries to receive the certificate – which grants entry to venues such as restaurants, clubs, and hair salons – by tricking the system could face charges of endangering the public with transmissible diseases – and this could mean up to three years behind bars if done intentionally, and up to one year if it is due to negligence. There could also be a fine of up to €1,450 ($1,660).
It seems, however, that the system could struggle to detect offenders in the first place. According to the Kronen Zeitung, between 100,000 and 200,000 samples are analyzed every day as part of the program. Verification data is evaluated by a special team through random checks. Between 7,000 and 10,000 actual checks are carried out every week, which is only a small portion of the tests.
The system operators told the paper that they are currently working on an AI solution that would validate the uploaded ID images and identify people in the testing videos before reporting suspicious cases. They also vowed to expand the random checks.
By mid-October, 10 million tests had been analyzed as part of the program. It was also expanded to cover school and kindergarten tests in Vienna.
However, people might soon find fewer ways to circumvent the government restrictions, as Austria has become the first nation to introduce a nationwide lockdown for the unvaccinated, starting on Monday.
Like this story? Share it with a friend!
You can share this story on social media: