Karin Kneissl: EU energy crisis is homemade, thanks to fixation on climate change while ignoring other aspects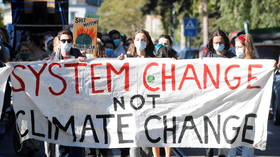 Climate change must be part of a responsible energy policy, but it can't overshadow all other areas, resulting in strained grids, underinvestment in fossil fuel energy, and, in the end, causing disruption to energy supply.
What was debated exclusively among experts just ten months ago is now making headlines worldwide: energy price-hikes.
Whether it's the oil market, where the price was plummeting below zero in the spring of 2020 and is now heading back towards $100 per barrel; or electricity bills, which are causing an additional burden of up to 40 percent for many households in the EU; or even concern about the low level of natural gas storage ahead of winter: everyone is talking about high energy prices and their possible impact, from the closure of businesses to social unrest. German officials have even issued a video teaching the public how to heat their homes with candles in case of a blackout.
Also on rt.com
With blackouts looming, German government holds disaster preparation day, promotes 'cooking without electricity'
But a power cut lasting beyond 24 hours – something that people in poor countries in the East manage with resilience – would amount to apocalyptic scenes in most Western cities.
Revolts in the name of energy
In France, the government of President Emmanuel Macron is still reeling from the Yellow Vests protests, which began back in 2018 as a result of higher fuel taxes. Paris wants to help those with low incomes and has announced it will block further natural gas price hikes and prevent a planned increase in electricity tariffs scheduled for February.
In Germany, households and industry alike are already paying particularly high electricity bills in comparison to the rest of Europe as a result of tremendous grid fees.
The risk of social revolt due to energy poverty is not a third-world problem but an issue in many EU member states. In 2013, for instance, the government of Bulgaria resigned following mass protests against high power prices and falling living standards. Angry citizens could topple their leaders if they are unable to deliver affordable energy – some governments in Central Europe understand this, and do not always act in compliance with current ambitions by Brussels to move completely away from fossil fuels as quickly as possible.
While it was often hunger that triggered previous revolutions from 1789 to 1917, contemporary unrest might happen in the name of loss of energy and mobility. As I have said in my earlier articles, "There is a yellow vest in every German car."
We gaze in amazement at videos of British petrol stations, where people hoard whatever fuel is still available in plastic bottles. The UK government laments a shortage of 100,000 qualified truck drivers, who now fail to supply the pumps. But it is about a failure in energy supply.
These images are somewhat reminiscent of October 1973, when, as a result of an oil embargo imposed by the Arab members of the Organization of the Petroleum Exporting Countries (OPEC), the price of a barrel of crude oil quadrupled within three weeks. While in the 1970s it was for geopolitical reasons – namely conflicts in the Middle East, as well as the revolution in Iran in 1979 and the long war between Iraq and Iran – the oil price is now rising for numerous homemade reasons.
Also on rt.com
Natural gas price in Europe smashes historic high as EU debates limiting Russian imports
The many causes
Nothing comes out of the blue; there are reasons for everything. And nothing has ever been monocausal in history, because the world is a bit more complicated than a tweet or headline can convey. It's not just about the "missing" truck drivers in the UK, or even "Russian blackmailing," as some German media outlets have been claiming for weeks.
The Russian energy company Gazprom is fulfilling its contractual obligations. The question is whether Russian companies should supply more natural gas beyond the current contracts, when at the same time the European Parliament is calling for a decoupling from the Russian energy market and sanctions up to and including the exclusion of Russia from the SWIFT system, i.e. international payments.
The fact that the Nord Stream natural gas pipeline has been extended by two more pipes (as part of the construction of Nord Stream 2) has to do with demand. European energy companies participated in this consortium from 2017 onwards because there were, and are, tangible economic reasons. Unfortunately, the pipeline was politicised by many EU states and, above all, the USA. The advantage of long-term supply contracts is predictable energy security.
The latter falls far too short in the current phase of transition, i.e. the transition from a strongly fossil-based era to an era of a new energy mix. Everything revolves around emissions and total decarbonisation. In the name of climate-change activism, all other aspects that should be part of a sensible energy agenda have been pushed to the margins. It seems as if those in charge have simply forgotten about the basics of market economy – namely supply and demand – which set the price.
Add to this the growing competition between customers: Asian consumers often pay higher prices than European consumers. The producers of liquefied natural gas, or LNG, can divert their tankers at short notice to the best-paying destinations, and especially in these days of scarce energy, these are in the East, not in the West.
Also on rt.com
Asia is winning the bidding war for natural gas supply
The liquefaction has turned natural gas into a globally traded product which gives its manufacturers a choice of customers. LNG coming from North America to European importers to create an alternative to Russian gas is dwindling; the fracking industry in the US has been shaken by bankruptcy and the volte-face of the Biden Administration, putting an end to fossil fuel investments and betting everything on renewables. Solar panels for the US might most probably be 'made in China'. The days of 'Big Oil' in America, which had a strong comeback under Donald Trump, seem to have gone. And whatever is still produced in the US is for domestic consumption, not for export.
A major factor for the current market situation, apart from the recovering economy, i.e. demand, is the tight supply. And this has to do with the lack of development of new oil and gas fields.
In the industry, there has been talk of "underinvestment" for the past seven years. In view of the massive pressure from politicians, legislators, and even the judiciary to get out of all investments in fossil fuels, there is still a lack of these very reliable energy sources.
In addition, there have been strong price fluctuations since 2008. As a result of the high volatility and the multiple price drops – for example, in autumn 2008, then in 2014, and finally in spring 2020 – international oil companies in particular had to put their cost-intensive exploration projects on hold, in the 'offshore' sector for instance. Such projects appeared unprofitable to shareholders. Who is still prepared to take the risk and invest in massive oil & gas fields from scratch? It takes determination, technology, and the means to do it. Again, this is happening east of Suez, not west. This city in Egypt serves as a historic reference in the oil industry. To be more precise, it's happening north-north-east of Suez.
A common refrain I learnt more than 20 years ago suggests that the last barrel of oil will be produced in Saudi-Arabia, the country with the largest untapped easy-to-drill oil reserves. But things keep changing. The last barrel of oil could be produced in Russia as major projects are developed.
The uncertainties in the transition phase
The current debate – and especially the question of how to deal with the energy crisis of 2021/22, which could still become very problematic in the event of a really cold winter – is not about a dispute between schools of thought on climate change. The latter is a reality. It is a fact that globally we are in transition. But the question is: how can all the aspects of a secure and affordable energy supply be implemented with expensive emission certificates and partly unrealistic targets for the industry?
As a result of low wind speeds, coal-fired power plants are now stepping in again, including in Germany, to ensure electricity generation. CO2 emissions are rising sharply, especially in Germany, as they did in the first years after the energy transition of 2011.
The urgently needed expansion of the electricity grid, on the other hand, has not yet taken place. According to current calculations, the German electricity grid will have to be expanded by 25 percent and comprehensively renewed. The announcements date back to spring 2011, when Chancellor Angela Merkel very surprisingly announced the phasing out of nuclear power. In 2013, the environment minister, Peter Altmaier said that the 'green revolution' would cost up to a trillion euros. The plan included the construction of so-called 'electricity highways' running north-south through Germany. Little has happened in the years since.
The aspects of a partly incomplete or poorly implemented liberalisation should not be ignored, because this is one of the many reasons why the security of supply could falter, and why energy poverty is also becoming a general social problem in our latitudes. Smaller energy suppliers are already going bankrupt, delivery distances are lengthening and, in turn, electricity bills are rising. I devote a lot of space to this aspect in my book 'Die Mobilitätswende' ('Mobility in Transition'), which I published in 2020.
The social question has been back for years as a result of high rents and low wages. People are struggling to get through the month, burdened with debts. The Covid pandemic has only intensified all of the existing problems. If there are now massive price increases, the road to social unrest is not far away. Some governments, such as in France, are aware of this. Others, in Germany for instance, seem to be detached from reality. Energy was not a topic in the elections, nor is it on the mind of the major power-brokers.
Also on rt.com
Paying more for household bills? Blame Russia's meddling in gas markets, Western commentators say, even if the facts don't hold up
The return of inflation
The last few decades hardly saw any price increases; inflation was not an issue, in contrast to the 1970s and 1980s – despite the fact that the many euro bailout packages inflated the money supply – and thus the risk of currency devaluation has actually been looming for some time. Now, however, energy prices are once again providing the decisive inflationary impetus. In Germany, inflation rose to over four percent in September. This is above the figures set by the euro monetary watchdogs. And the older generation knows only too well that inflation is like toothpaste: once out of the tube, it is impossible to put it back in.
Only the European Central Bank (ECB) says that, despite all these developments, inflation is not an issue. Yet the ECB's main task is to stabilise the euro. ECB chief Christine Lagarde, on the other hand, thinks that the bank should work much more against climate change, thus gaining the favour of public opinion but overstepping her mandate and eroding the bank's neutrality.
Energy policy must be about more than just climate change issues
We cannot reduce ourselves to the important issue of climate change and make all other aspects of the environment, as well as economy and everyday life, absolutely subordinate to it. Climate change must be part of energy policy – I have argued this in many lectures and books over the last 20 years. But the issue cannot overshadow all other areas.
We are in a historically interesting situation where, for the first time, energy policy is not driven by technological innovation – remember, for example, the switch from coal to oil or from oil to nuclear energy – but instead primarily by social pressure that is very emotionally driven. The scientific facts about the limits to growth have been known for decades, but little was done, and now activists are pushing the agenda.
We are enjoying a pleasant Indian summer in large parts of Europe, but winter days are looming – cold, with little sunshine and lulls in the wind, when renewable electricity production dries up and the danger of blackouts increases. Such a situation occurred on January 8 in Central Europe. Thanks to prompt action by numerous grid providers, a power cut was avoided. There was little-to-no reporting on that in the German press. The probability of such an occurrence being repeated only increases under the current conditions. And all of those are completely homemade. It is not the fault of any of the oil or gas exporters.
Think your friends would be interested? Share this story!
The statements, views and opinions expressed in this column are solely those of the author and do not necessarily represent those of RT.
You can share this story on social media: