Hardliner Raisi wins Iran's presidential election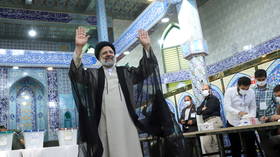 Conservative judge Ebrahim Raisi has been declared the victor of Iran's presidential election. As the clear frontrunner, Raisi received congratulations from rival candidates hours before preliminary results were announced.
Iran's Interior Ministry announced the final results on Saturday, showing that Raisi had won in a landslide victory.
The ministry said 28.9 million Iranians participated in the election. Raisi received over 17.9 million votes, with the rest split between three other candidates. Second-place Mohsen Rezaei received 3.4 million votes.
In an address to the country, Supreme Leader Ayatollah Ali Khamenei said the winner of the election was the "Iranian nation" and that participation at the polls marked a victory against "propaganda of the enemy's mercenary media," Fars News reported.
Raisi's three rival candidates conceded ahead of the release of the preliminary results. Outgoing President Hassan Rouhani met with Raisi on Saturday to personally congratulate his successor.
Outgoing president of #Iran Hassan Rouhani personally congratulates his successor Ebrahim Raeisi for his election as 8th president of Iran during a meeting on Saturday after he was garnered over 17.8 million votes by people out of more than 28.6 million ballots pic.twitter.com/HRcPiQiPPm

— Tasnim News Agency (@Tasnimnews_EN) June 19, 2021
The Muslim cleric campaigned on the slogan "Popular Administration, Strong Iran" and promised to tackle government corruption. Raisi's platform also called for measures to combat poverty, create jobs and rein in inflation.
A close ally of Khamenei, Raisi could further complicate strained relations between Tehran and Washington during his four-year term. The current chief justice of Iran was targeted by US sanctions in 2019, due to his alleged involvement in the execution of political prisoners in the 1980s, as well as crackdowns on civil unrest in the late 2000s.
Like this story? Share it with a friend!
You can share this story on social media: