Alarms go off near Israel's nuclear reactor amid reports of explosions & missile defense system being activated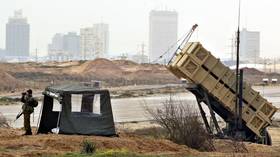 Sirens have pierced the air in Israel's southern Negev province near the secretive Dimona nuclear facility, with reports of multiple blasts heard far away from the site and anti-missile systems responding.
The sirens were heard in Abu Qrenat – a village some 13 miles (21km) northwest of The Shimon Peres Negev Nuclear Research Center in the Negev desert – following reports of explosions from the vicinity of the nuclear facility on Thursday morning, according to the Jerusalem Post. A military spokesperson said the incident resulted in no casualties.
Unconfirmed footage has circulated on social media, in which a siren can be heard blaring in the distance. The location the video was captured is unclear. Another clip purporting to show the moment a missile was intercepted by Israel's defense systems has also made the rounds.
The Israeli Defense Forces issued a statement online confirming that sirens had been activated in the village, adding in a follow-up that officials believe a surface-to-air missile was launched from Syrian territory and that a counter attack had been carried out. " In response... the IDF attacked the battery that launched the missile and other surface-to-air missile batteries in Syrian territory," the military said.
A Reuters journalist some 56 miles (90km) away from Dimona reported hearing an explosion moments before the military alerted residents of the incident by text message, while the Post cited Israelis who said they heard "loud explosions" that "shook the houses" as far away as Jerusalem.
IDF spokesperson Hidai Zilberman later told Post reporter Anna Ahronheim that a long-range SA-5 missile was used in the apparent attack, which he said was fired toward Israel and exploded in the southern Negev. The launch came amid Israeli strikes on Syria, he added without elaborating.
While the Israeli military rarely confirms strikes on Syria, Prime Minister Benjamin Netanyahu has boasted of "hundreds" of bombing raids on Syrian territory throughout the country's years-long civil war against jihadist militant groups. Tel Aviv has also frequently vowed to challenge Iran's presence in Syria, where it has supported the government's war effort, arguing that Tehran will use the country as a staging area from which to launch attacks.
Beginning operations in the 1960s, the Dimona nuclear facility contains one of Israel's few nuclear reactors. While Israeli officials maintain the site is used for research alone, in 1986 a former technician at Dimona, Mordechai Vanunu, claimed the facility is part of an undeclared nuclear weapons program, passing photos and detailed technical descriptions to British media outlets which appeared to validate his explosive allegations. Vanunu was later captured by Mossad agents in Italy, brought back to Israel and tried for treason and espionage. He has since been released from prison, but remains in Israel under heavy restrictions.
Based on Vanunu's revelations, the Times estimated that, in 1986, Israel had enough fissile material for some 20 hydrogen bombs and 200 fission bombs, though the country has maintained a policy of "nuclear ambiguity" and has never publicly acknowledged any weapons program.
Think your friends would be interested? Share this story!
You can share this story on social media: