1 killed, 3 soldiers injured in alleged Israeli rocket strike in Damascus countryside (VIDEO, PHOTO)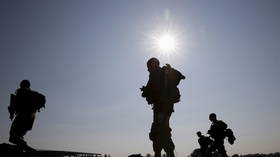 An Israeli rocket attack on the outskirts of the Syrian capital has killed one person and wounded three others, the country's state media reported, citing a security source. "Material damage" was also inflicted in the strikes.
The rockets reportedly targeted troops stationed near al-Zabadani, a city close to the border with Lebanon 30 miles (50km) outside of Damascus, early Wednesday morning, according to the Syrian Arab News Agency (SANA).
"At 1:30 in the morning, the Israeli enemy carried out an air aggression with bursts of rockets from northern Galilee targeting a unit of our air defense in the Nabi Habil area in Damascus countryside," a military source told the outlet.
While the source said Syrian air defenses countered some of the projectiles, he added that the Israeli attack left one soldier dead, referring to him as a "martyr," and wounded three more. The extent of their injuries is unclear.
Unconfirmed photos and video footage have circulated online purporting to show the attack in progress, with one clip recording the sound of several loud blasts.
Other images depicted a fireball and a column of smoke rising over the horizon, reportedly captured around the Nabi Habil area south of al-Zabadani.
The alleged strikes come mere days after a similar Israeli attack was reported in the Hama Governorate in the early hours of Christmas Day, which targeted military sites near the city of Masyaf, according to SANA. Syrian air defenses were also engaged to repel that attack, in which no casualties were reported.
Though Tel Aviv rarely confirms military operations in Syria, Prime Minister Benjamin Netanyahu vowed last week to deliver a "crushing blow" to anyone that tries to "harm" Israel, citing both Syria and Iran by name. The Israeli government has repeatedly accused Damascus of harboring Iranian soldiers and military bases, deeming them a "threat" and claiming the right to strike Syrian territory whenever it sees fit.
Also on rt.com
Syrian air defenses respond to 'Israeli aggression,' explosions heard over Hama countryside – state media
Netanyahu previously acknowledged that Israel has carried out "hundreds" of airstrikes against "Iranian targets" in Syria in recent years, amid a bloody civil war with insurgent rebel groups that rages on to this day in some areas of the country.
Think your friends would be interested? Share this story!