Karin Kneissl: France has a sad history of terrorist attacks, and that history is set to continue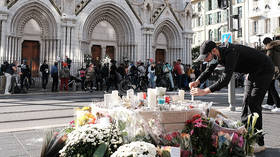 The brutal attack on a church in Nice is part of a long list of horrors. However, the incident looks different in this time of absolute uncertainty.
The Nice assassin cruelly murdered three people in the Notre-Dame de l'Assomption church by cutting their throats. While attacking his victims, he loudly shouted "Allahu Akbar," or "God is great." He was carrying a document from the Italian Red Cross that indicated he is a Tunisian national born in 1999. The terrorist is said to have entered France illegally via Italy only recently and did not seek asylum. At the same time, similar knife attacks in Avignon and Lyon, which were also accompanied by shouts of "Allahu Akbar," were prevented by the security forces. As it so happens, a large number of attacks have been foiled in France in recent years, including an attack on Notre-Dame Cathedral in Paris.
The long, cruel chronology of terrorism
But the list of Islamist-motivated attacks is depressingly long and goes back to the 1980s. In the autumn of 1995, a series of serious bomb attacks on public transport hit Paris. This was followed by meticulously planned attacks by jihadists, such as the one on the Bataclan nightclub in November 2015, and by many lone wolves who, according to Islamic State (IS, formerly ISIS) regulations from 2014, used both vehicles and knives against the so-called 'infidels.' On the national holiday of July 14, 2016, Nice was the scene of a massacre carried out by a terrorist with a truck on the local beach promenade.
The wide range of the perpetrator profiles shows very different reasons for radicalization: on the one hand, it is the young North African, descendant of immigrants, who feels left behind, doesn't care about the republic and its values; at other times, it's the radicalized returnees from a war zone, or the ex-prisoner who mutated from a car thief to a radical Islamist only once behind bars, and so on. The murderer of history teacher Samuel Paty was 18 years old. His family emigrated to France from Chechnya 16 years ago and received political asylum. This murder two weeks ago made public waves almost higher than the Covid-19 curfew. The execution of a teacher was seen as an attack on the entire republic. The background was apparently Paty's lessons on the subject of freedom of expression using Islamic caricatures. We know this topic from Denmark in 2006, when the Mohammed cartoons at the time led to an international campaign against the small country.
It was not until five months after the drawings appeared in a Danish provincial newspaper that Danish flags were burning from Niger to Indonesia. The agitation against Denmark was orchestrated, because, first, all the Danish flags had to be sewn before they could be demonstratively burned in front of the cameras. At that time, the entire Scandinavian diplomacy was involved in 'tolerance workshops' from Cairo to the Persian Gulf for relieving tensions in order to get salted Danish butter back on the shelves of Arab supermarkets. France is a much more interesting target.
The hatred of France
France is also a former colonial power in the Arab world and Paris sees itself to this day as a special actor in the Middle East. French politics is just as intensely involved in Syria, where many diplomatic attempts unfortunately failed due to the resistance of the French, just as Paris was responsible for the so-called humanitarian intervention of March 2011, which soon became the regime change attack on Muammar Gaddafi. If even states such as Qatar, with which France has very close relations, including in the arms trade, boycott French goods, then something has gone fatally wrong.
France offers a large target area for all excellent counterterrorism measures, such as the Vigipirate plan, its national security alert system. While France emphasizes its republican values, the rigid separation of politics and religion, many people, regardless of their faith, whether at home or abroad, have little in common with them. The concept of secularism is truly a French peculiarity that is no longer practised in this form anywhere else today. Because this strongly secular character of the country is upheld, it has also attracted religiously persecuted people as exiles at all times. Personally, I have always been fascinated by this concept, as I take a critical view of the mixture of politics and religion.
Also on rt.com
Muslims are strangely obsessed with cartoons, all while there are very real crimes over which they should be angry at France
The legacy of the French Revolution, and this strict separation of Church and State, once disturbed Catholics and now disturbs the radicals among the estimated six million Muslims in France. The terrorist confrontation on French territory has more and more of the traits of a burgeoning religious war. The Nice assassin was not the only one who wanted to kill Christians by going to a church where some people might just linger for a short prayer. Unfortunately, this motif can be observed more and more often. On the other hand, the term 'Islamophobia' is used for any form of criticism of Islam, regrettably, by academics and governments alike. France is a particularly ambivalent arena here. On the one hand, unlimited freedom of expression is claimed; on the other, religious feelings are all too often instrumentalized as a victim. These fronts could only harden in the face of the major economic and social upheavals now looming with the second nationwide lockdown.
Terrorism in lockdown
It would now be high time to approach each other with respect and not polarize any further in the torn republic, where nerves are on the edge. President Emmanuel Macron knows the majority of the French people are behind him with his relatively new, tough stance towards the Islamists, who have long been belittled by some parties. Like all politicians, he wants to maximize votes and not lose them to the right. The subject of Islamism and its fight, as in a law on 'Islamist separatism' planned for early December, is an area full of tension. And now the new lockdown has begun, which could drag on until Christmas. Nobody can foresee how the citizens will accept that, whether some will simply accept the bankruptcy of their small businesses. In my opinion, however, major social upheavals are looming, which offer additional ammunition for this terrorist conflict. In addition, numerous convicted Islamists who have served their sentences will also leave prison during these weeks. Added to this are the illegal migrants of this time who, incited by messages of hate, may prepare for an attack.
When people become terrorists, this has the following motive at all times: they want to give meaning to their insignificant life. In my opinion, this motive should not be underestimated. Especially in an era in which many young men, but also women, are looking for status that neither the job market nor a community such as a sports club can offer them due to the lockdown. Unfortunately, more horrific acts are to be expected, because some of France's decision-makers jump at their own shadow at even the thought of approaching each other across the party divide in order to find a consensus on the way forward.
Dr. Karin Kneissl currently lives and works in France. She is a Middle East expert and former Foreign Minister of Austria.
Think your friends would be interested? Share this story!
The statements, views and opinions expressed in this column are solely those of the author and do not necessarily represent those of RT.
You can share this story on social media: