Turkish survey ship resumes operations in Eastern Mediterranean as maritime dispute with Greece heats up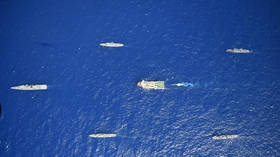 A Turkish seismic survey ship has begun searching for oil and gas deposits in the Eastern Mediterranean, amid an uneasy standoff between Ankara and Athens over maritime rights in the area.
According to Turkish Energy Minister Fatih Donmez, the Oruc Reis vessel is expected to receive its first seismic readings on Wednesday after being dispatched to the disputed region in the Mediterranean earlier this week.
The ship returned to port last month, in what Ankara described as a goodwill gesture designed to foster diplomacy with Athens. However, the decision to redeploy the vessel to an area near the Greek island of Kastellorizo off Turkey's coast has been condemned as a dangerous provocation. The Greek Foreign Ministry described the development as a "major escalation" and a "direct threat to peace in the region," while Washington "deplored" the decision and called on Ankara to immediately begin talks with its Mediterraean neighbor. Germany was similarly critical, arguing it would be "unwise" to resume exploration in the region.
The long-time rivals have been sparring over contested waters believed to be rich in oil and gas. The territorial dispute became more fierce after the Oruc Reis began surveying the area.
Greece had praised Ankara's decision to temporarily withdraw the vessel but said it was still unclear if Turkey was "sincere" in its desire to find a solution to the maritime quarrel.
Like this story? Share it with a friend!
You can share this story on social media: