Ongoing global outages of iOS for Twitter, Tinder, Spotify and Pinterest are linked to Facebook software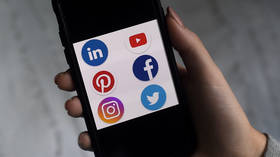 The social media company Facebook's software development kit is thought to be the cause of current outages of several apps including heavy hitters such as Spotify and Tinder.
Swathes of users are currently having issues, with the problem thought to have stemmed from Facebook's software development kit (SDK), which many apps use to manage user logins.
Although the exact cause of the crashes isn't yet confirmed.
The problem looks to be only affecting iOS operating systems, with no problems reported by their Android counterpart as of yet.
Spotify, Pinterest, Twitter, Viber, Venmo, Tinder, and even Apple's App Store are experiencing technical difficulties.
Twitter users have been quick to illustrate the problem.
At the time of writing, 15,000 people have reported being unable to access Spotify, Pinterest, and Waze, according to Down Detector, a website that monitors service outages.
Facebook's developer page is currently reporting 'an increase in errors on the iOS SDK.'
Also on rt.com
Big reveal: Microsoft announces showcase of first-party games release for XBox Series X
In May, a similar problem occurred that brought down services for the best part of a day. Then, Facebook said in a statement that a change "triggered crashes for some users in some apps using the Facebook iOS SDK."
The issue was resolved within a matter of hours, meaning that users today may be locked out of a lot of services for the remainder of the day.
If you like this story, share it with a friend!
You can share this story on social media: