Germany and Belgium will open borders for Schengen and UK travelers on June 15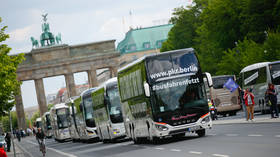 The Belgium and German governments will reopen their borders and lift travel restrictions for European nationals and UK citizens from June 15, in view of the likely improvement of the coronavirus situation across the continent.
From mid-June, citizens of both nations will also be allowed to travel to the European Union (EU), Great Britain – which is currently in the transition period to leave the EU – and four countries in the border-free Schengen Area: Iceland, Norway, Switzerland, and Liechtenstein.
However, German Foreign Minister Heiko Maas made it clear that the reopening of all travel across Europe will happen gradually and that this year's holidays will be different from those in previous times.
Maas says the forthcoming travel season "won't have much to do with the past vacations you've known; people should remain careful and everybody should not start traveling at once", he said.
During an announcement on Wednesday regarding further lockdown easing in Belgium, Prime Minister Sophie Wilmès urged citizens to act responsibly to protect themselves and others. "We must not forget, however, that the virus still remains with us," she added.
The non-essential travel ban was put in place in both nations in mid-March, as the pandemic spread across the continent and the numbers of cases began to rapidly increase in some countries, including Italy and Spain.

From 15 June onwards, Germany's and Belgium's Foreign Affairs Ministries will each issue travel advice for those traveling to fellow EU countries. The new guidelines will include information about specific virus risks and help citizens evaluate which regions are best to visit or avoid.

The German authorities abolished border controls with Luxembourg on May 16. Since then, Luxembourgers have been able to enter Germany with no restrictions and are not required to quarantine.
Also on rt.com
Austria to lift border checks with all neighbors except Italy on Thursday
The European Commission is expected to decide on the reopening of both internal and external borders in the next two weeks. In May, EU leaders set out a phased plan to reboot travel this summer, with measures intended to minimize the risk of spreading the coronavirus infection.
Like this story? Share it with a friend!