Italy coronavirus death toll hits 4,825 as 793 die in ONE DAY in biggest daily increase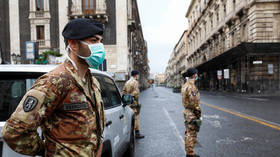 The death toll from the Covid-19 illness in Italy has nearly reached 5,000, as health authorities reported on Saturday that another 793 people have fallen victim to the coronavirus.
Saturday's staggering increase of nearly 20 percent is by far the largest daily rise since the outbreak began a month ago.
Officials announced that 4,825 people have died from the disease in the Mediterranean nation, which surpassed China to become the worst-hit country in the world on Thursday.
The total number of cases across Italy rose to 53,578, an increase of over 5,000 from a previous tally of 47,021.
The worst-affected region of Lombardy remains in a critical situation, with 3,095 deaths and 25,515 cases. The situation in the region has become so severe that the Italian military had to move dozens of coffins from the cemetery in the town of Bergamo to other areas because local funeral providers were overwhelmed.
Also on rt.com
Coronavirus death toll in Italy's Lombardy surpasses 3,000 as 546 more perish
Authorities also announced that 6,072 people have now fully recovered from the disease in Italy, an increase of 943 on the day before. However, a total of 2,857 people are in intensive care in hospitals around the country.
A lockdown introduced by the Italian government on March 12 shut down most businesses and banned public gatherings as the country tried to clamp down on the outbreak. Despite the extreme measures, the number of new cases and deaths has continued to spiral.
Think your friends would be interested? Share this story!
You can share this story on social media: