Multiple rockets hit Green Zone in Baghdad, US coalition denies attack on Camp Taji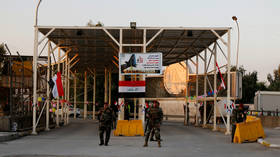 At least three rockets have reportedly struck Baghdad's Green Zone, according to Iraqi authorities. The spokesman for the US-led coalition denied reports of a rocket attack on nearby coalition base Camp Taji, however.
Several unguided Katyusha rockets struck the fortified area on Tuesday, reportedly striking homes in the al-Jadriya neighborhood.
سقوط صاروخين نوع كاتيوشا انطلقا من منطقة عرب جبور باتجاه منطقة الجادرية أحدهما سقط على بناية متروكة قرب هيئة الحج والعمرة والاخر سقط في نهر دجلة، دون خسائر تذكر . pic.twitter.com/NHaPxKpot6

— خلية الإعلام الأمني🇮🇶 (@SecMedCell) March 17, 2020
The projectiles landed over 2km from the US embassy in Baghdad, according to coalition spokesman Myles Caggins, and there were no reported casualties.
Caggins denied a report of late-night rocket fire on Camp Taji, the coalition base where one British and two American servicemen were killed last week.
As of 11pm (Baghdad Time), no rockets were fired at Camp Taji. In Baghdad no explosions occurred near US/Coalition facilities. 📃 لحد الساعة11 مساء (بتوقيت بغداد) ، لم تطلق صواريخ على معسكر التاجي. كما لم تحدث انفجارات في بغداد بالقرب من منشآت أمريكية / تابعة لقوات التحالف.

— OIR Spokesman Col. Myles B. Caggins III (@OIRSpox) March 17, 2020
The attack was the fourth in a week and came just a day after two rockets hit Besmayah, a coalition base 45km southeast of Baghdad that is home to NATO troops including a large Spanish contingent. On Saturday, a strike on Camp Taji wounded two Iraqis and three American servicemembers.
The US has blamed the attacks on Iraq's Kataib Hezbollah militia, part of the Popular Mobilization Units that are officially under leadership of the Iraqi military, despite an absence of proof, and conducted multiple airstrikes against PMU positions. No explanation has been forthcoming as to why an Iraqi militia - even one supported by Iran - would be using such outdated weaponry when the Iraqi military was until very recently equipped with US arms, or why it would strike a coalition base housing Iraqi troops.
Also on rt.com
Iran tells US to stop pointing fingers & accept 'consequences of its illegal presence in Iraq'
While the Iraqi Parliament passed a resolution calling for foreign troops to leave the country in January following the US assassination of Iranian Major General Qassem Soleimani, the assorted US allies that have personnel stationed there have dragged their feet in complying, while the US itself has latched on even tighter, announcing the construction of three new bases in the country and pledging to beef up missile defense at its existing bases.
Like this story? Share it with a friend!
You can share this story on social media: