One more Turkish soldier killed in Idlib shelling, Turkish forces 'retaliate' – Ankara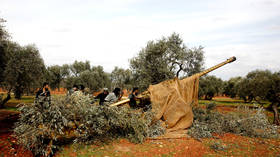 Shelling by Syrian government forces has killed one Turkish soldier and injured two more in Syria's Idlib province, the Defense Ministry in Ankara said. Turkey is retaliating, as two countries remain on the brink of open war.
The newest casualties come less than a day after 33 Turkish soldiers were killed in what has been reported as either an air strike or an artillery bombardment, also in Idlib. Turkey has sent thousands of troops and armor into the province, which is the last remaining stronghold of militants – some of them affiliated with Al-Qaeda – that once sought to overthrow the government in Damascus.
Also on rt.com
Turkey & Syria on brink of WAR in Idlib: How did it come to this?
The airstrike that killed the Turkish troops happened while the Syrian Army was repelling a large-scale offensive by the terrorist group Hayat Tahrir al-Sham (HTS), near the town of Behun. Turkish servicemen were intermingled with the terrorists, the Russian Defense Ministry said on Friday.
Syrian troops have advanced on the militants over the past several weeks, clashing with Turkish troops on numerous occasions. As the Syrian government is backed by a Russian expeditionary force, while Turkey is a member of NATO, the conflict has raised fears of a full-blown war involving Europe and the US as well.
Think your friends would be interested? Share this story!
You can share this story on social media: