Two letter-bomb explosions hit mailrooms in Netherlands in apparent 'extortion act'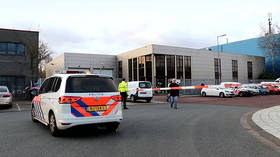 Blasts have rocked mail facilities in two Dutch cities within half an hour of each other. The incidents are the latest in a string of mysterious explosive packages being mailed to various companies in the country in recent weeks.
The first explosion occurred at a postal services office inside Amsterdam's Bolstroen business center shortly before 8am local time on Wednesday, police said. Half an hour later, it was followed by a second blast at a mail-sorting facility in the town of Kerkrade in the southeastern Limburg Province. Nobody was hurt in both incidents.
Amsterdam police said that the blast "presumably came from a letter bomb." The buildings were evacuated, and the bomb squads arrived at the scenes.
Following the two morning blasts, the third suspicious package was intercepted at a bank in the town of Maastricht. This time, however, the letter bomb scare turned out to be false, as the mail item did not contain any explosives but merely a computer mouse, the police said.
Later in the day, police revealed that the motive behind two letter bombs was extortion, adding that they were probing whether Wednesday's attacks were linked to similar incidents last month.
Various businesses in Amsterdam, Rotterdam, Utrecht and Maastricht began receiving mysterious packages rigged with explosives last month. The last one was discovered in Rotterdam on Friday. None of the packages had previously detonated but police warned that they "could have caused serious bodily injury."
Also on rt.com
Blast rattles central Stockholm, another explosion reported in Uppsala shortly afterwards (PHOTOS)
The previous letters contained the logo of the national debt collection company, the Centraal Invorderings Bureau (CIB), which said that it had nothing to do with them.
Think your friends would be interested? Share this story!
You can share this story on social media: