Chinese petrochemical factory consumed by huge FIREBALL after massive explosion (VIDEOS)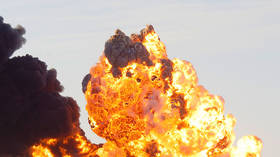 A massive explosion ripped through a chemical plant in Zhuhai, southern China on Monday, forcing workers to flee for their lives as a fireball consumed the facility, sending thick plumes of black smoke high into the air.
Footage released by Chinese media purports to show the Changlian Petrochemical Plant engulfed by flames as workers sprint to safety at around 1:40pm local time. Miraculously, no casualties were reported in the explosion, according to local authorities.
【珠海化工厂爆炸】1月14日中午,广东珠海高栏港一石化工厂发生爆炸,从市民拍摄的现场视频可以看到,爆炸现场火光冲天。事发后,珠海当地投入救援。据人民網消息,珠海长炼石化设备有限公司重整与加氢装置预加氢单元发生闪爆,暂未发现人员伤亡,该公司及周边人员已安全撤离。#爆炸#石化工厂pic.twitter.com/tq2KK5dV0V

— 自由亚洲电台 (@RFA_Chinese) January 14, 2020
Massive blaze rages in a petrochemical enterprise in south China's Guangdong Province , city of Zhuhai , no casualties reported yet pic.twitter.com/Qba7lJwVPT

— Khalid khi (@khalid_pk) January 14, 2020
Zhuhai Fire Brigade dispatched 40 fire engines and 200 firefighters to the scene, with additional support provided by fire brigades from neighboring Guangzhou, Foshan, Jianmen and Zhongshan.
The ensuing fire was reportedly extinguished in just a couple of hours, and an investigation into the circumstances which led to the explosion is already underway.
The Zhuhai Emergency Management Bureau said there were no anomalous environmental readings in the immediate aftermath of the explosion, but that it would continue to monitor the situation.
In March 2019, dozens of people were killed and hundreds more injured in two separate blasts at chemical plants in the eastern Jiangsu province.
Also on rt.com
Dozens dead, hundreds injured in huge explosion at Chinese chemical plant (PHOTOS, VIDEO)
Think your friends would be interested? Share this story!
You can share this story on social media: