Pompeo claims Iran 'likely' shot down Ukrainian Boeing as US rolls out new sanctions (VIDEO)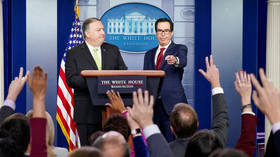 US Secretary of State Mike Pompeo has accused Iran of attempting to kill Americans in its missile attacks on bases in Iraq, and of downing the Ukrainian Boeing 737-800, as the US Treasury rolled out new sanctions against Tehran.
Treasury Secretary Steven Mnuchin on Friday announced a new round of sanctions against Iran, which he said would be aimed at stopping Tehran's "global terrorist activities."
The new restrictions would affect Iran's construction, textiles, mining, steel and iron industries, among others. The sanctions will also target eight senior Iranian officials, whom Washington accuses of being involved in the latest missile attacks.
Mike Pompeo, in turn, described the newly-sanctioned officials as members of Iran's "inner security apparatus."
Among those sanctioned are the secretary of Iran's Supreme National Security Council and the deputy Chief of Staff of the Iranian armed forces. A leader of a paramilitary group within the Revolutionary Guard's Corps that acts as law enforcement and social services provider in Iran was also slapped with restrictions.
Washington also subjected 17 major Iranian metal manufacturers and mining companies to sanctions, and imposed restrictions against several China- and Seychelles-based enterprises, which it described as major "purchasers and transporters" of Iranian steel, as well as providers of critical materials for the relevant Iranian industries.
The Secretary of State also said that he has "no doubt" Iran had "full intention" to kill Americans in its latest missile strike on Iraqi bases housing the US troops. He also added that the US believes that Iran was "likely" to jave shot down the Ukrainian passenger jet that crashed after taking off from Tehran airport as well.
We do believe that it is likely that this plane was shot down by an Iranian missile. We are going to let the investigation play out before we make the final determination.
Also on rt.com
Ukraine says Iran cooperating with Boeing crash probe, calls to reduce media speculation
Pompeo went on to call Trump's response to Tehran's actions "appropriate," adding that the US "does not want war." Instead, he said Washington would "continue its strategic effort" to force Iran to abandon what he called a "40-year-long" campaign to "terrorize the world."
The announcement comes a day after President Donald Trump promised more sanctions against Iran, following the missile attack targeting the US troops in Iraq. The newly announced restrictions would come in addition to a thousand pieces of earlier constraints Washington relentlessly imposed against Tehran, ever since Trump unilaterally left the Iranian nuclear deal in 2018.
The tensions between the two nations have been high for more than a year and a half, but saw a dramatic escalation after the US assassinated a top Iranian general in a drone strike in early January. The Iranian attack on the US bases in Iraq was a response to this strike.
Also on rt.com
Trump confirms more sanctions against Iran, says Tehran plane crash may have been 'mistake'
Think your friends would be interested? Share this story!
You can share this story on social media: